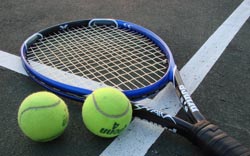 Brisbane: Bulgarian Grigor Dimitrov snapped a two-and-half-year title drought, defeating third seed Kei Nishikori 6-2, 2-6, 6-3 in the final of the Brisbane International tennis tournament here on Sunday.
Dimitrov's title run includes three consecutive top 10 scalps: Dominic Thiem in the quarter-finals, top seed Milos Raonic in the semis and Nishikori in the final. It was his fifth career title, his first since Queen's Club in 2014.
A former World No.8, Dimitrov saw his ranking slip to No.40 midway through 2016 before finish the year at No.17.
"It is one of the big moments for me," Dimitrov was quoted as saying by atpworldtour.com after the match.
"It's been quite a few months for me on and off the court. I think that was an emotional win for me, but at the same time, it wasn't unexpected. I have put in the work. I think I have learned a lot. I have gone through some serious work and I have just been working on myself on and off the court.
Read more: Australia batsman Khawaja keen to impress in India
"I think at some point, things need to start giving back to you a little bit. I just feel that I feel fortunate enough to be in the final, to be so healthy and to being obviously in such a shape. But at the same time, I'm pretty humbled, because I have set myself quite high goals for the first six months and one of them was actually to win a tournament. And it happened during the first week of the year, which makes things definitely look a lot more positive for me," he added.