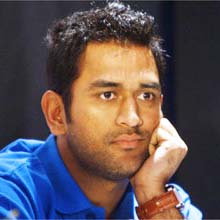 Mahendra Singh Dhoni, one of the most successful captains that world cricket has seen recently stepped down as skipper from the limited overs format. As an Indian Captain, Dhoni achieved what every captain dreams of achieving including the ICC Test mace. India's heartthrob MS Dhoni will go down in Indian Cricketing history as a leader who taught the team how to deal with success and failure alike which was a great virtue that Dhoni, as a leader, possessed.
Let's have a look at the 5 qualities that made MS Dhoni a successful captain.
1. 'Captain Icy Cool'
At various instances under MS Dhoni's leadership even in tournaments which India won eventually, there have been instances when the team had been under immense pressure yet it was Dhoni's calm and cool personality which allowed him to soak the pressure and take decisions which later turned out to be monumental. Dhoni allowed the whole team to play freely and took it upon himself endless number of times to finish the game, whenever he didn't he was the first one to admit that.
Lesson 1: If you are icy cool, calm and composed under extreme circumstances, you have very good chances of making wise decisions and being successful.
2. Captain Gambler
If you are a leader you must take risks, but calculated risks. Dhoni as a leader was a risk taker, often gambling, but over the long run that has helped him to achieve what he has. Dhoni would often give his part time spinner that one or two extra overs to make up for a regular bowler who may have a bad day, this was his favourite gamble, this improved Raina's bowling figures, in fact KedarJadhav has more international wickets than he ever had in domestic circuit. You know whom to thank.
MS Dhoni's biggest gamble gave India cricket's highest honour when he decided to promote himself up the order against Sri Lanka in the finals of the 2011 Cricket World Cup.
Lesson 2: If you want to achieve great heights, you need to be a risk taker and gamble with resources sometimes, for it is often the risk taking ability that differentiates between a leader and a great leader.
3. Team Man
MS Dhoni's decisions have always followed the "Team First" principle. Individuality was never his motto nor did he ever play for records, which is quite evident in his career statistics of 90 Tests and 199 ODI's as captain. He stuck to players he believed in and gave them enough chances to prove their worth to the team. Nurtured under Dhoni, R Ashwin, Rohit Sharma, etc. will remain a key component of Virat Kohli's team. The best indicator of how good a leader is, is the position it is in when the leader leaves and MS Dhoni is leaving behind a team ready to conquer new heights in world cricket, his captaincy has influenced the careers of numerous players across the country.
Lesson 3: Taking decisions keeping in mind the larger good of the team/organization/family always helps the team prosper.
Read more: Kohli pays rich tributes to predecessor Dhoni, says Mahi saved him many times from getting dropped
4. Loved working backstage
MS Dhoni loved working behind the scenes and backstage. He would quietly do the job and disappear in the background, go away just like how he retired from Tests, drew the Test for India, silently walked away. When he felt the time is right, he silently quit captaincy, no grand farewells, no guard of honour, nothing because that is what defines the man. This quality of his made him an important architect of an Indian squad who did well around the globe. When it came to credit he would give it to the entire team and shield the others from criticism.
Lesson 4: Probably the toughest lesson to imbibe in one's life, conquer the world but it should never hit your head; achieve heights but let the achievements speak for themselves.
5. Never compromised on 'his team'
MS Dhoni would fight for the players he believed in and often stick to them making very few changes when the tournament is in progress, this would allow players to play fearless Cricket and not get into a shell where they play for a place in the team. MS would often converse with the youngsters and give them the fields they want. Sometimes he would come out with a plan against a batsman, keeping in mind a particular bowler and his bowlers would respond positively. It is also the beautiful Captain: Team relationship that he shared that made him the leader he eventually was.
Lesson 5: Trust and Love your teammates unconditionally for that allows them the freedom to perform better. Good relations in the tea reflect on the ground or the big stage.