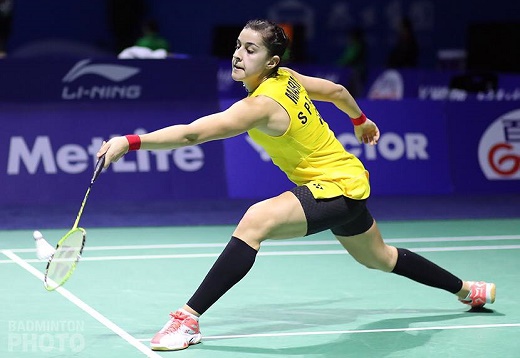 New Delhi: Spanish star shuttler Carolina Marin, the reigning Olympic champion and two-time reigning world champion in the women's singles, has said that her method boiled down to hard work and single-minded pursuit of her goals.
Marin, who is one of just a handful of Europeans taking part this month in India's six-team Premier Badminton League (PBL), told Efe on Friday that her coach plays a crucial role in helping her achieve peak performance, saying that "wherever my coach, Fernando (Rivas), goes, Carolina will go".
The 23-year-old Spaniard lost 11-6, 6-11, 5-11 on Friday to South Korean top-10 player Sung Ji-hyun in what was a disappointing day for her Hyderabad Hunters team, which fell in the PBL semi-final to Mumbai Rockets, reports Efe.
But the big events of the season, particularly the All England Open in Birmingham in March and the World Championships in Glasgow in August, are still to come for the world No.2 Marin, who is struggling to achieve full fitness after sustaining a lower back injury.
"The toughest thing for an athlete is to overcome an injury, but at the end of the day it's just another challenge."
Known for her fiercely competitive streak and loud screams after winning points, the native of Huelva, Spain, has charted an unlikely path from a place with little badminton tradition to the top of her sport.
"When I began playing badminton, I was really bad at that time and I couldn't imagine that I would become a champion," the southpaw said. "But I think at the end of the day it's because of the character I have."
Read more: Marin loses to Sung Ji as Mumbai outplay Hyderabad to storm into PBL final
Marin has numerous admirers in India, where badminton -- like in many countries of Asia -- ranks as one of the country's top spectator sports.
One of them is former badminton star Prakash Padukone, winner of the 1980 All England Open, who recently praised Marin's game and said that when he saw her coach he would ask him what their formula was for winning big titles.
"It can't be discovered. It's something secret," Marin said before adding that what is essential in the "Carolina method" besides training is to have a "goal in mind and go after it".
Marin is so ferociously competitive that she refuses to lose even in practice, saying that "at the end of the day fighting in each of the training sessions makes you perform much better on the court" in tournaments.
The Spaniard, who prides herself on having broken China's dominance of women's singles, said the toughest stages of her career lie ahead.
"Up to now, let's say, has been the least difficult part. Now the really tough part is coming, which is continuing to be up there, maintaining that form ... and above all wanting to conquer new challenges," the 23-year-old said.