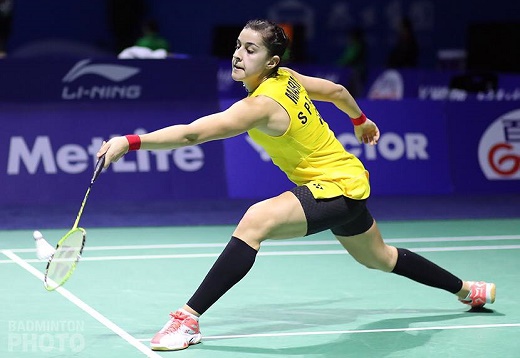 New Delhi: Mumbai Rockets thrashed Hyderabad Hunters 3-(-1) in the second semi-final to set their date with Chennai Smashers in the summit clash of the Premier Badminton League (PBL) at the Siri Fort Indoor Stadium here on Saturday.
The second semi-final started with both the Trump matches which Mumbai won convincingly to gain an unassailable lead leaving the rest three ties inconsequential.
Hyderabad's Carolina Marin once again failed to break the jinx against Mumbai's South Korean import Hyun Sung Ji as the Rio Olympics gold medallist lost 11-6, 6-11, 5-11 in the women's singles match.
Also read: Premier Badminton League: Sindhu beats Saina to guide Chennai Smashers to final
The contest started with a bang with World No.2 Marin facing World No.3 Hyun, which predictably was the Trump match for the Hyderabad franchise.
Bruised after the loss to the South Korean in the league stage, the 23-year-old Marin started on a positive note to quickly take a 6-4 lead going into the break of the first game.
Coming back, the Spanish southpaw extended her lead to 8-5 and stifled her opponent with some brilliant smashes to take the game 11-6.
The second game, however, saw Marin trailing Hyun 3-6 in the break, before the Korean shuttler consolidated it further to 8-5 and did not allow the reigning two-time World Champion any freebies whatsoever. Hyun finally took the second game 11-6 in her favour.
The 25-year-old Korean carried the momentum in the third game, which witnessed two long rallies of 25 and 22 shots, to walk away leading 6-3 into the break before pocketing it 11-5.
The second match of the night was the Trump for Mumbai with 2016 Swiss Open gold medallist H.S. Prannoy taking on Hong Open silver medallist Sameer Verma in the men's singles tie.
The 24-year-old Prannoy had it easy in the first game with a 6-4 lead into the break before pocketing it 11-8 comfortably.
The second game witnessed a comeback of sorts from Sameer, who went into the break leading 6-4 and further consolidated it to win 10-7, before Prannoy turned it around to equalise at 10-10.