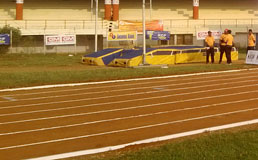 Nairobi: Kenyan athletes on Tuesday called upon the government to do all it takes to avoid impending International Olympic Committee (IOC) ban on Friday after its local affiliate refused to make changes to its constitution.
Officials of the Professional Athletes Association of Kenya (PAAK) led by Organizing Secretary, Julius Ndegwa said athletics formed the bedrock of the country's Olympic participation and urged the National Olympic Committee of Kenya (NOCK) to move with speed and address IOC concerns to avoid a ban, reports Xinhua news agency.
"Track and field forms the bedrock of Kenya's Olympic participation and the ban will affect the country's athletes immensely," Ndegwa told journalists in Nairobi.
The IOC froze financial support to Kenya last week after the troubled national Olympic Committee refused to make changes to its contentious constitution, which was negotiated among affiliates.
The IOC said it would discuss the matter in Pyeongchang, South Korea on Friday to decide any further action.
"NOCK should comply with the IOC wishes because no group of individuals is greater than the nation," he said, adding that they will call for a boycott by Kenyan sportsmen and women from travelling with the officials starting with this year's Youth Commonwealth Games scheduled for July in Bahamas.
The IOC wants a series of new regulations to address issues of good governance within its Kenyan affiliate which was brought about by its lop-sided constitution that favoured incumbent officials.
National Olympic committees divide up to $1 billion in IOC revenues every four years that accrue from the Olympics and which is their share from the marketing proceeds of the Olympics.