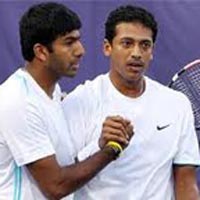 New Delhi: The duo of Mahesh Bhupathi and Rohan Bopanna who already were penalised for showing dissent during Olympic Team selection and axed from India's Davis Cup tie against the ongoing New Zealand from Asia-Oceania Group received further blow as they now have been banned from representing in Davis Cup tie till June 2014.

An All India Tennis Federation (AITA) release said, "AITA in its executive committee meeting has decided not to consider Mahesh Bhupathi & Rohan Bopanna for selection to play in Davis Cup for India uptill 30 June 2014."

Both these players came in AITA's line of fire after they objected to team up with Leander Paes during the 2012 London Olympics.

While nothing has been heard from Bopanna yet, but then Mahesh Bhupathi seemingly disappointed with the move blasted the executive committee on social networking site Twitter.

"The cranky old grand fathers on the executive committee, who have never played tennis waiting for a reaction?There is one coming.stay tuned!," tweeted Bhupathi.

Meanwhile the tennis body also decided to stick to the present team till 2013 Asia/Oceania matches after they put up an impressive show against the Kiwis and took a 3-0 lead.
By Indian Sports News Network