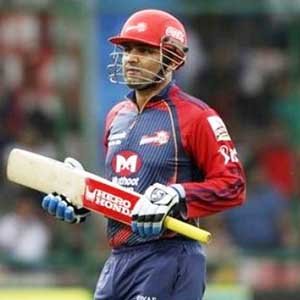 Pune: Delhi Daredevils avenged their Ferozeshah Kotla defeat by Pune Warriors India by thrashing them by eight wickets in the Indian Premier League (IPL) at the Subrata Roy Sahara Stadium here Tuesday.
Tight bowling by the Daredevils restricted Pune to 146 for two, openers Sourav Ganguly and Jesse Ryder falling for nothing before Manish Pandey (80 not out) and Robin Uthappa (60 not out) gave their side something to bowl at with their 145-run stand. The target was too meagre for Delhi and they raced to victory with 25 balls to spare.
Skipper Virender Sehwag went about chasing the target in a business-like fashion. The Delhi dasher's untimely fall in the previous match between the two teams had cost his side the match. He and Kevin Pietersen (27) more or less settled the issue after a well-set Mahela Jayawardene (18) got run out.
The Pune Warriors were left spellbound by Sehwag's onslaught, cracking 87 off 48 balls with ten fours and three towering sixes.
It was a one-man show as Sehwag smashed the Pune bowlers all around the park. He was particularly severe on Luke Wright, playing his first game this season, and his close friend Ashish Nehra.
Earlier, electing to bat, Pune lost big-hitting Ryder, who scored a match-winning 86 off 58 balls at Kotla, for nought in the first over. He was castled by Irfan Pathan with the second ball of the match.
Skipper Ganguly (1), too, left in the next over from Morne Morkel, holing out at third man.
Left-arm spinners Pawan Negi and Shahbaz Nadeem kept the Pune batsmen under check with their tight line and length. The two in their cumulative eight overs gave away just 44 runs, though both of them had themselves to blame for going wicketless as they dropped a catch each of their own bowling.
Poor fielding by Delhi allowed Pune Warriors to claw their way back. Pandey was first dropped when he was on 20 by Pietersen at long-on and then Nadeem gave Pandey another lifeline in the 13th over.
Pandey, who was the first Indian to score a century in the IPL, took full advantage of the missed chances to stroke his way fluently to smack seven fours and three sixes in his 80 off 56 balls.
Uthappa played an uncharacteristically dour knock by his standards, his 60 off 58 balls
Pune Warriors:
Jesse Ryder b Pathan 0
Manish Pandey not out 80
Sourav Ganguly c Nadeem b Morkel 1
Robin Uthappa not out 60
Extras: (b 4, lb 1) 5
Total: (for two wickets in 20 overs) 146
Fall of wickets: 1-0 (Ryder, 0.2 overs), 2-1 (Ganguly, 1.2)
Bowling:
Irfan Pathan 4-0-23-1
Morne Morkel 4-0-34-1
Umesh Yadav 4-0-40-0
Pawan Negi 4-0-22-0
Shahbaz Nadeem 4-0-22-0
Delhi Daredevils:
Mahela Jayawardene run out (Wright/Uthappa) 18
Virender Sehwag not out 87
Kevin Pietersen c Ryder b Sharma 27
Ross Taylor not out 9
Extras: (lb 5, w 2) 7
Total: (for two wickets in 16 overs) 148
Fall of wickets: 1-22 (Jayawardene, 2.5 overs), 2-111 (Pietersen, 11.1)
Bowling:
Alfonso Thomas 2-0-14-0
Ashish Nehra 3-0-34-0
Luke Wright 2-0-24-0
Sourav Ganguly 1-0-12-0
Murali Kartik 4-0-26-0
Rahul Sharma 4-0-33-1 (IANS)