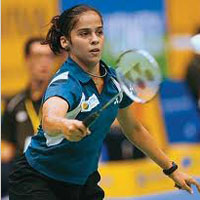 New Delhi: It is a battle within the battle for all the participants of the Yonex Sunrise India Open 2012, part of OSIM BWF Super Series that begins at the Siri Fort Indoor Hall, Sirifort Sports Complex from April 24 to April 29th. The Yonex Sunrise India Open is the last event in the one-year qualifying period for the London Olympics and has attracted over 250 entries.

In the men's singles category the likes of 2010 world champion Chen Jin of China, world number one Lee Chong Wei of Malaysia and former World and Olympics champion Taufiq Hidayat of Indonesia are taking part.

Of the three, only Lee Chong Wei is assured of the Olympics berth so far and this explains the significance of the second edition of the Yonex Sunrise India Open for the big stars of World Badminton.

Also in the fray is world number four Peter Gade of Denmark, who would look to ensure that Chen Jin does not leapfrog him in the world ranking and grab the third qualification berth for the Chinese.

Even in the women's section, China has decided to send world number three Shixian Wang and Saina Nehwal's conqueror in the All England Championship, Li Xuirei (currently ranked fourth in the world ranking), as the badminton powerhouse wants to ensure that all their top four shuttlers are available for selection for the London Games.

In the Indian context, the Yonex Sunrise India Open has a higher significance this year since India has a chance to qualify for all the five categories for the first time ever.

While Saina Nehewal is already through in women's singles, she would be vying to better her place in top four to ensure not to meet top World players before the semi-finals in the Olympics. The race for the men's singles berth between Ajay Jayaram and P Kashyap could see a photo finish in the national capital.

The two players are currently just two spots apart in the world ranking and according to the qualification rules the player ranked higher in the world ranking list of May 3, 2012 will represent India in London.

"The Yonex Sunrise India Open is going to be a do-or-die battle for me. But I have happy memories of the Siri Fort venue, where I won the Commonwealth medal in 2010, and I am confident that the crowd will give me similar support " said P Kashyap, who needs to leapfrog Ajay to join Saina in the Indian squad for the Olympics.

The other Indians in contention include mixed doubles combination of Jwala Gutta/V Diju, women's doubles pair of Jwala/Ashwini Ponnappa and men's doubles team of Sanave Thomas/Rupesh Kumar, who too are few steep away from qualification.