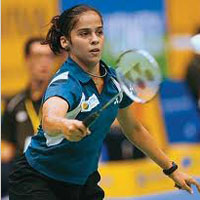 New Delhi: Saina Nehwal came abreast a saddening defeat when she crashed out of the All England Badminton Championship. Her sixth attempt at Birmingham ended just in a heap of disaster with the Indian ace losing her quarterfinal 13-21, 21-23 against Li Xuerui of China, late yesterday.
What perhaps mattered the most in the end was the fact that this was the fourth time in five meetings that Saina has lost to Li. There was a slight technique default seen, when Saina struggled to find her rhythm in the first game.
Nehwal was crashed away in 40 minutes as the seventh seeded Chinese cruised away to a 13-21, 21-23 victory at the National Indoor Arena.
Ranked four in the world, Nehwal failed to gain any momentum with most of her shots landing at the net against a more "in there" Xuerui. The Chinese notched up a 2-0 lead, going into the break at 11-8.
By Indian Sports News