Muhammad Ali (boxing):
No other sportsperson has inspired others the way he has. Born Cassius Marcellus Clay Junior, Muhammad Ali is three times world heavyweight champion. Widely regarded as the greatest boxers of all time, Ali changed his name in the year 1964 and a year later changed his religion into Islam. Prior to turning pro, Ali won an Olympic gold for the US in 1960 in the light heavyweight category.
Ali has been nicknamed as "The Greatest", and his rivalry with Joe Frazer and George Foreman is considered as one of the most celebrated rivalries in the global sporting arena. Ali had a very unique style of fighting and he used to call his unorthodox style of fighting as unorthodox as 'float like a butterfly, and sting like a bee'. Ali's like any other player was no stranger to controversies. He was stripped of his heavyweight title and also had his boxing license revoked for four years in the 1967 for refusing to get conscripted in U.S military opposing to his religious beliefs in the Vietnam War.

But then he was a true fighter and disputed the ban, and after a gap of four years his ban was revoked by US Supreme Court.

Considering his illustrious career he was soon started to be seen as an icon and was named as "Sportsman of the century" by sports illustrated and "Sports Personality of the Century" by BBC.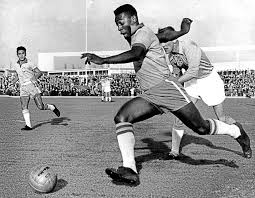 Pele (football):
Edison "Edson" Arantes do Nascimento better known as Pele or Black Pearl is regarded as the best football player ever to have graced the world's most loved sport. The Brazilian forward has an illustrious record of winning three world cup titles.

Over the years, Pele who has earned sobriquets as "King of Football", "King Pele" and "Black Pearl" played his first international football at an age of 16 and a year later won his first World Cup.

Pele has many laurels out which some significant ones are "Football Player of the Century" by International Federation of Football History and Statistics in the year 1999. In the same year the International Olympic Committee named him as the "Athlete of the Century." In his career as a footballer he has scored 760 official goals, which makes him the highest goal scorer of all time.

After his retirement from the football, he has been a worldwide ambassador of the football.
Michael Phelps (swimming):
When Mark Spitz won seven gold medals in 1972 Munich Olympics, nobody would have ever thought that there would be a day when someday, somewhere, someone would break his somehow unmatchable record in pool. But 38 years later, one of his fellow countrymen came up with the astonishing feat and finished up with eight gold medals in Beijing Olympics. Michael Fred Phelps, with an overall medal hauls of 16 medals -- including six gold medals and two bronze at Athens in 2004 and eight gold medals at Beijing in 2008 – undoubtedly deserves a place in the top 10 great athletes of all time. His rare feat made him most successful athlete in the pool at the Olympic Games.
Phelps's international titles and record breaking performances have earned him the World Swimmer of the Year Award six times and American Swimmer of the Year Award eight times. He has won a total of sixty-six medals in major international competition, fifty-four gold, nine silver, and three bronze spanning the Olympics, the World, and the Pan Pacific Championships.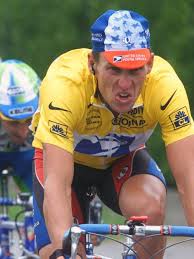 Lance Armstrong (cycling):
Adversity brings the best out of you provided you are prepared to fight that and Lance Edward Armstrong is a perfect example of that. He fought death to come back to competitive cycling and not only did he make a comeback, he went on to win the most coveted of the cycling title – the Tour De France. Best known for winning the Tour de France a record seven consecutive times, Lance Armstrong is an inspiration for many. He was diagnosed with testicular cancer in the year 1996 with a tumour that metastasized to his brains and lungs. Despite his bad physical conditions, he went on to win the Tour De France for seven consecutive times from the year 1999 till 2005, breaking the previous records of five times by Miguel Indurain, Bernard Hinault, Eddy Merckx, and Jacques Anquetil.

He received many awards and honors and in 1999, he was named the ABC Wide World of Sports Athlete of the Year followed by Prince of Asturias Award in Sports in 2000.

In 2002, Sports Illustrated magazine named him Sportsman of the Year. He was also named Associated Press Male Athlete of the Year for the years 2002–2005. H0e received ESPN's ESPY Award for Best Male Athlete in 2003, 2004, 2005, and 2006, and won the BBC Sports Personality of the Year Overseas Personality Award in 2003.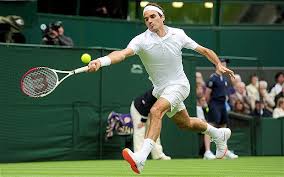 Roger Federer (tennis):
With 16 Grand Slam titles, Roger Federer is inarguably the greatest tennis player to have lived. Federer held the ATP no. 1 position for a record 237 consecutive weeks and 285 weeks overall. He is one of seven male players to capture the career Grand Slam and one of three (with Andre Agassi and Rafael Nadal) to do so on three different surfaces (clay, grass, and hard courts). He is the only male player in tennis history to have reached the title match of each Grand Slam tournament at least five times and also the final at each of the nine ATP Masters 1000 Tournaments.
Federer has appeared in an unprecedented 23 career Grand Slam finals, of which 10 were consecutive appearances, and appeared in 18 of 19 finals over the four and a half years from the 2005 Wimbledon Championships through the 2010 Australian Open. He holds the record of reaching the semifinals or better of 23 consecutive Grand Slam tournaments over five and a half years from the 2004 Wimbledon Championships through the 2010 Australian Open.

Federer has won a record 6 ATP World Tour Finals and 18 ATP Masters Series tournaments (second all-time). He also won the Olympic gold medal in doubles with his compatriot Stanislas Wawrinka at the 2008 Summer Olympic Games.

As a result of Federer's successes in tennis, he was named the Laureus World Sportsman of the Year for a record four consecutive years (2005–2008).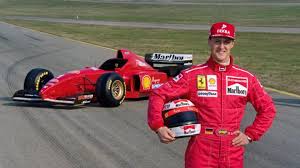 Michael Schumacher (Formula 1):
Michael Schumacher born in Germany and currently racing for Team Mercedes GP is famous for his 11-year spell with the Ferrari and is undoubtedly the greatest Formula 1 driver of all times. Schumacher is a seven-time World Champion and has the most number of records than any other racers to have ever raced on a Formula 1 track. He holds the formula's driver records for most championships, race victories, fastest laps, pole positions, points scored and most races won in a single season – 13 in 2004.

In 2002 he became the only driver in Formula One history to finish in the top three in every race of a season and then also broke the record for most consecutive podium finishes. According to the official Formula One website he is "statistically the greatest driver the sport has ever seen."

In honour of Schumacher's racing career and his efforts to improve safety and the sport, he was awarded an FIA Gold Medal for Motor Sport in 2006. In 2007, in recognition of his contribution to Formula One racing, the Nürburgring racing track renamed turns 8 and 9 as the Schumacher S, and a month later he presented A1 Team Germany with the A1 World Cup at the A1GP World Cup of Motorsport 2007 awards ceremony. He was nominated for the Prince of Asturias Award for Sport for 2007, which he won both for sporting prowess and for his humanitarian record.

In 2008 the Swiss Football Association appointed Schumacher as the Swiss ambassador for the 2008 European football championship.

Schumacher was also honoured with the Officier of Légion d'honneur title from French Prime Minister François Fillon.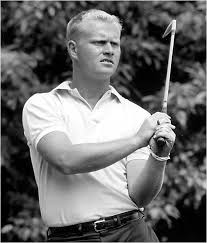 Jack Nicklaus (golf):
Tiger Woods or Jack Nickalaus? Our verdict has gone with Jack Nickalaus as with 18 Majors, he still holds that record. In addition to his 18 Majors, he was runner-up a record 19 times and placed third an additional nine times. Nicklaus did not play that many tournaments because he wanted to focus on the Majors, but is still second on the PGA-tournament winning list with 73 victories.

Jack's competitive career spanned five decades. He is the only player in history to have won each of the game's majors at least three times (six Masters, five PGA Championships, four U.S. Opens, three British Opens), and is the only player to have completed the career "Grand Slam" on both the regular and senior tours. Jack is a five-time winner of the PGA Player of the Year Award, has been the PGA Tour's leading money-winner eight times and runner-up six times. He has played on six Ryder Cup teams captained two other Ryder Cup teams, and served as U.S. captain for the 1998, 2003, 2005, and 2007 Presidents Cup teams.
So until Woods break Nicklaus' record of 18 majors, let Nicklaus remain the best professional golfer of all time.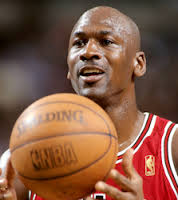 Michael Jordan (basketball):
The undisputed greatest basketball player in history of the game. The 6' 6" shooting guard for the Chicago Bulls dominated the sport in the '80s and '90s, and then took time out to try and make it as a professional baseball player. It didn't work out, so he returned to the Bulls and led them to three championships.

Jordan joined the NBA's Chicago Bulls in 1984. He quickly emerged as a league star, entertaining crowds with his prolific scoring. His leaping ability, illustrated by performing slam dunks from the free throw line in slam dunk contests, earned him the nicknames "Air Jordan" and "His Airness". He also gained a reputation for being one of the best defensive players in basketball.[2] In 1991, he won his first NBA championship with the Bulls, and followed that achievement with titles in 1992 and 1993, securing a "three-peat". Although Jordan abruptly retired from basketball at the beginning of the 1993–94 NBA season to pursue a career in baseball, he rejoined the Bulls in 1995 and led them to three additional championships (1996, 1997, and 1998) as well as an NBA-record 72 regular-season wins in the 1995–96 NBA season. Jordan retired for a second time in 1999, but returned for two more NBA seasons from 2001 to 2003 as a member of the Washington Wizards.

Jordan's individual accolades and accomplishments include five MVP awards, ten All-NBA First Team designations, nine All-DefensiveFirst Team honors, fourteen NBA All-Star Game appearances, three All-Star Game MVP awards, ten scoring titles, three steals titles, six NBA Finals MVP awards, and the 1988 NBA Defensive Player of the Year Award. He holds the NBA records for highest career regular season scoring average (30.12 points per game) and highest career playoff scoring average (33.45 points per game).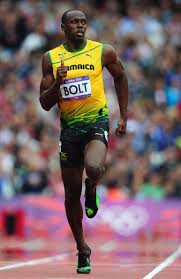 Usain Bolt (athletics):
We never saw Jesse Owens sprint, but this generation has been fortunate to see the thunder called Usain Bolt who eclipsed all the records at one go in Beijing Olympics. The Jamaican sprinter's performance at the Beijing Games was one of the most remarkable in history. It was there that he set the Olympic and world records for the 100 metres at 9.69 seconds (even though he slowed down at the finish to celebrate), the 200 metres at 19.30 seconds, and also the world record for the 4x100 relay, making him the first man to win all three events at a single Olympics since Carl Lewis in 1984, and the first man in history to set world records in all three at a single Olympics. That he set these records without seemingly trying makes it all the more unbelievable.

He became the first junior sprinter to run the 200 m in under 20 seconds with a time of 19.93 s. His 2008 season began with his first world record performance—a 100 m world record of 9.72 s—and culminated in world and Olympic records in both the 100 m and 200 m events at the 2008 Beijing Summer Olympics. He ran 9.69 s for the 100 m and 19.30 s in the 200 m, and also set a 4×100 m relay record of 37.10 s with the Jamaican team. The following year he further lowered his own 100 m and 200 m world records to 9.58 s and 19.19 s respectively at the 2009 World Championships. This made him the first man to hold both the 100 and 200 m world and Olympic titles at the same time.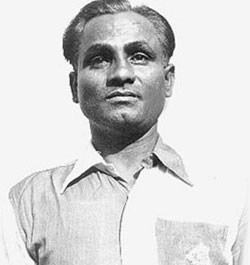 Dhyan Chand (hockey):
Dhyan Chand regarded as the greatest field hockey players of all time was a member of the gold medal winning Indian teams at the (1928 Amsterdam Olympics, the 1932 Los Angeles Olympics, and the the 1936 Berlin Olympics), the last of which he captained. No other sportsperson has dominated their discipline as Dhyan Chand did for over a decade. Considered to be the wizard of stick, Dhyan Chand was the pillar of Indian team in the three Olympics that he played.

His quicksilver agility on the field as a centre-forward and captain of the Indian hockey team became legendary. It earned him the name 'hockey wizard'. Such was Dhyan Chand's reputation, that people thought he used a special hockey stick. Dhyan Chand holds record for the most international goals, i.e. more than 1000.

Even today, Dhyan Chand remains a legendary figure in Indian and world hockey. His astounding skills have been glorified in various apocryphal stories and anecdotes. A number such legends revolve around the fact that Singh had a magical control over dribbling the ball. August 29, Dhyan Chand's birthday is celebrated as National Sports Day in India. The National Stadium, Delhi was renamed Dhyan Chand National Stadium in 2002 in his honour.

Please share your list with us...