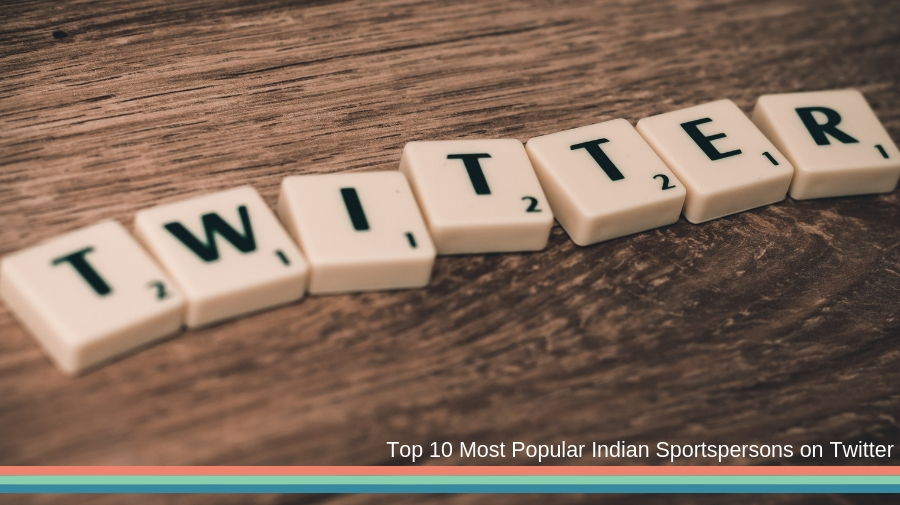 Social networking sites like Facebook and Twitter have become important platforms for celebrities to interact with their fans and critics and help them in keeping in the memories of those you love them. Sportspersons too have realised the potential and strength of social media and have been quite active on these networking sites off late. They not only share their pictures, videos and stories on these platforms, but also make it a point to interact with their followers on daily basis. Players like Virender Sehwag have even become a rage on Twitter for his witty posts and comments.
Here we see some of the most followed Indian sports people on Twitter as sports person are very much a major celeb in India.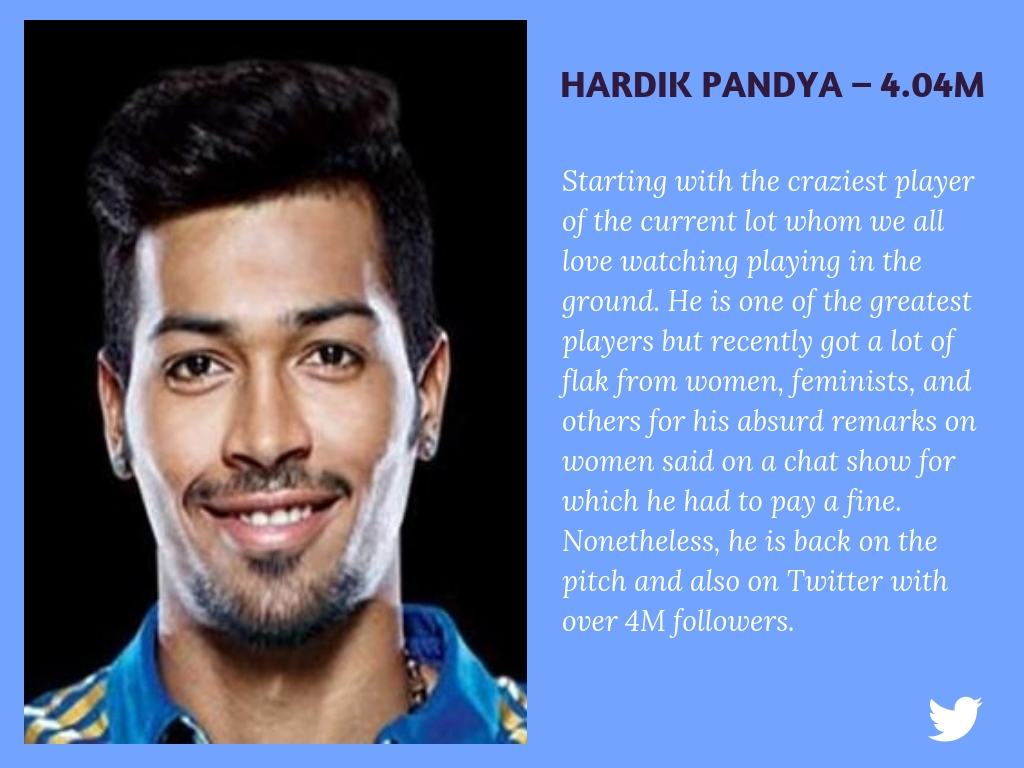 10. Hardik Pandya – 4.04M
Starting with the craziest player of the current lot whom we all love watching playing in the ground. He is one of the greatest players but recently got a lot of flak from women, feminists, and others for his absurd remarks on women said on a chat show for which he had to pay a fine. Nonetheless, he is back on the pitch and also on Twitter with over 4M followers.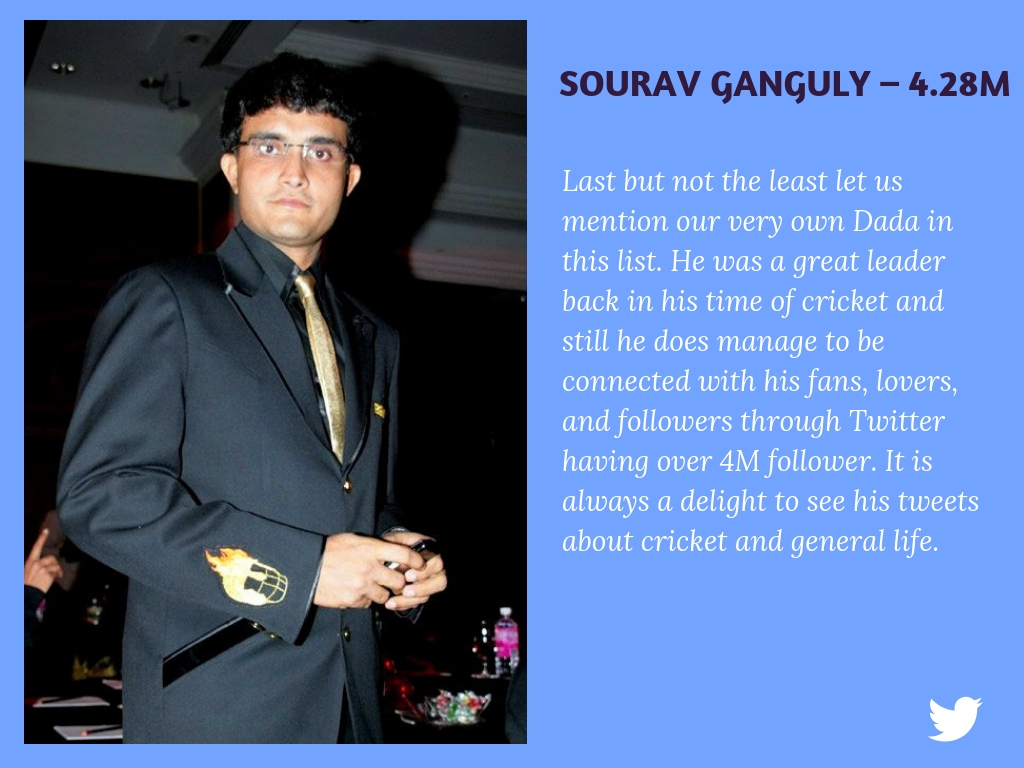 9. Sourav Ganguly – 4.28M
Last but not the least let us mention our very own Dada in this list. He was a great leader back in his time of cricket and still he does manage to be connected with his fans, lovers, and followers through Twitter having over 4M follower. It is always a delight to see his tweets about cricket and general life.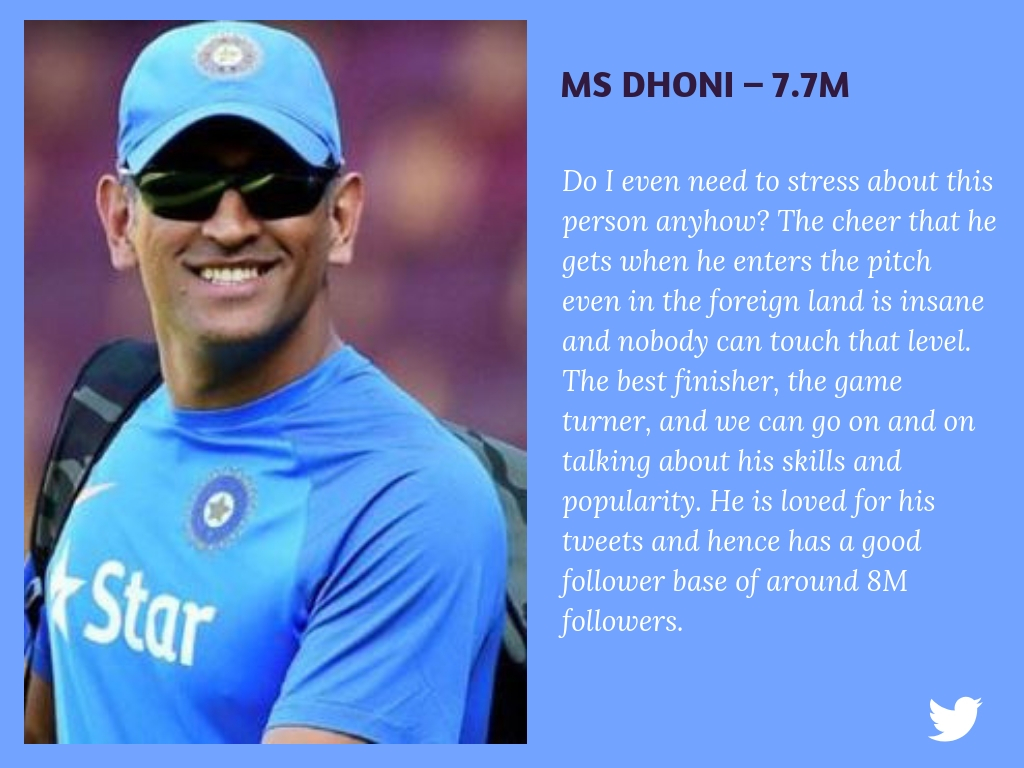 8. MS Dhoni – 7.7M
Do I even need to stress about this person anyhow? The cheer that he gets when he enters the pitch even in the foreign land is insane and nobody can touch that level. The best finisher, the game turner, and we can go on and on talking about his skills and popularity. He is loved for his tweets and hence has a good follower base of around 8M followers.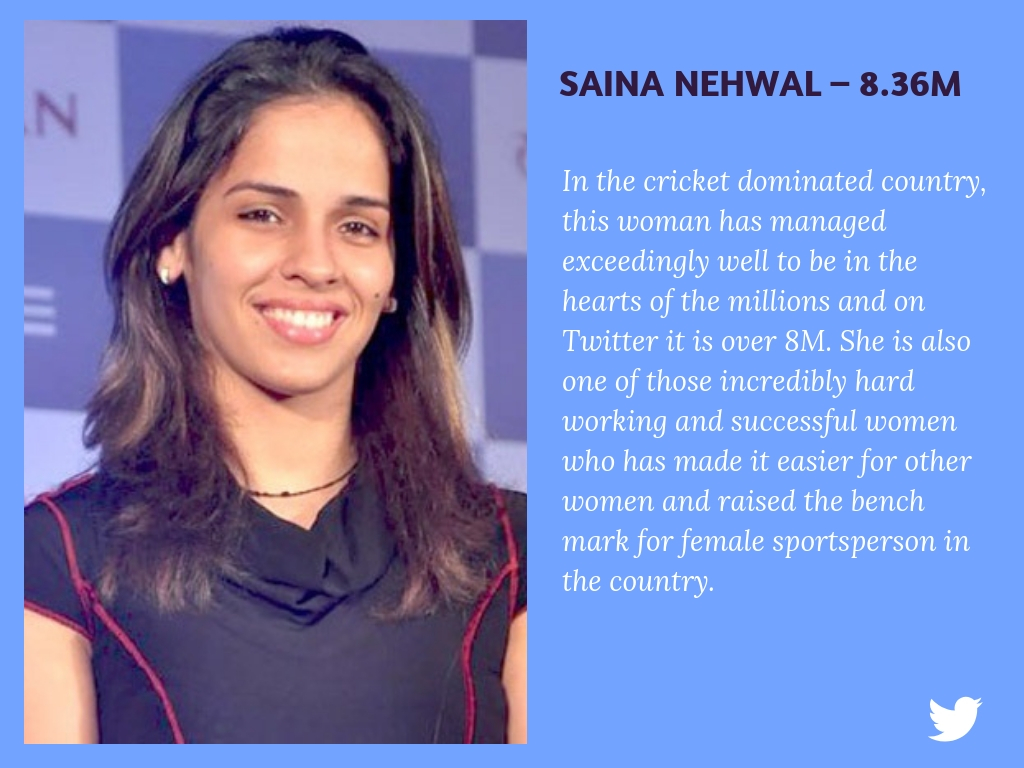 7. Saina Nehwal – 8.36M
In the cricket dominated country, this woman has managed exceedingly well to be in the hearts of the millions and on Twitter it is over 8M. She is also one of those incredibly hard working and successful women who has made it easier for other women and raised the bench mark for female sportsperson in the country.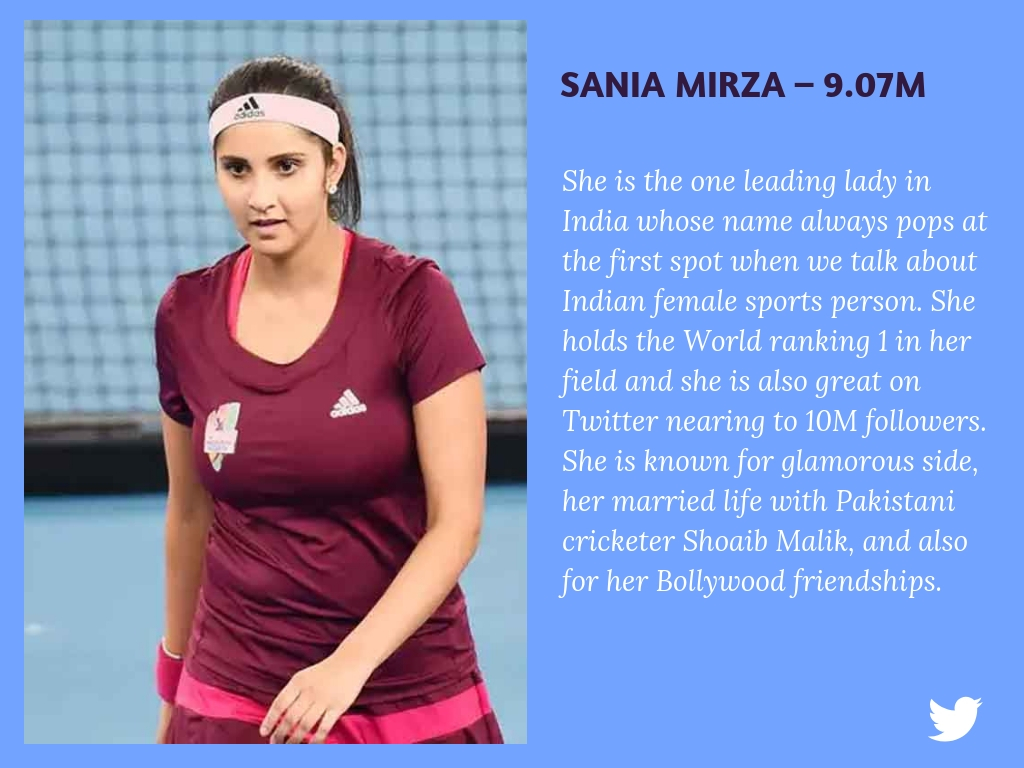 6. Sania Mirza – 9.07M
She is the one leading lady in India whose name always pops at the first spot when we talk about Indian female sports person. She holds the World ranking 1 in her field and she is also great on Twitter nearing to 10M followers. She is known for glamorous side, her married life with Pakistani cricketer Shoaib Malik, and also for her Bollywood friendships.
5. Gautam Gambhir – 9.74M
Former cricketer who turned Indian politician currently was a great one on the pitch. He has played cricket in all formats and has also managed his IPL team to win under his captaincy. He is ruling the politician life while getting massive love on Twitter with over 9M followers.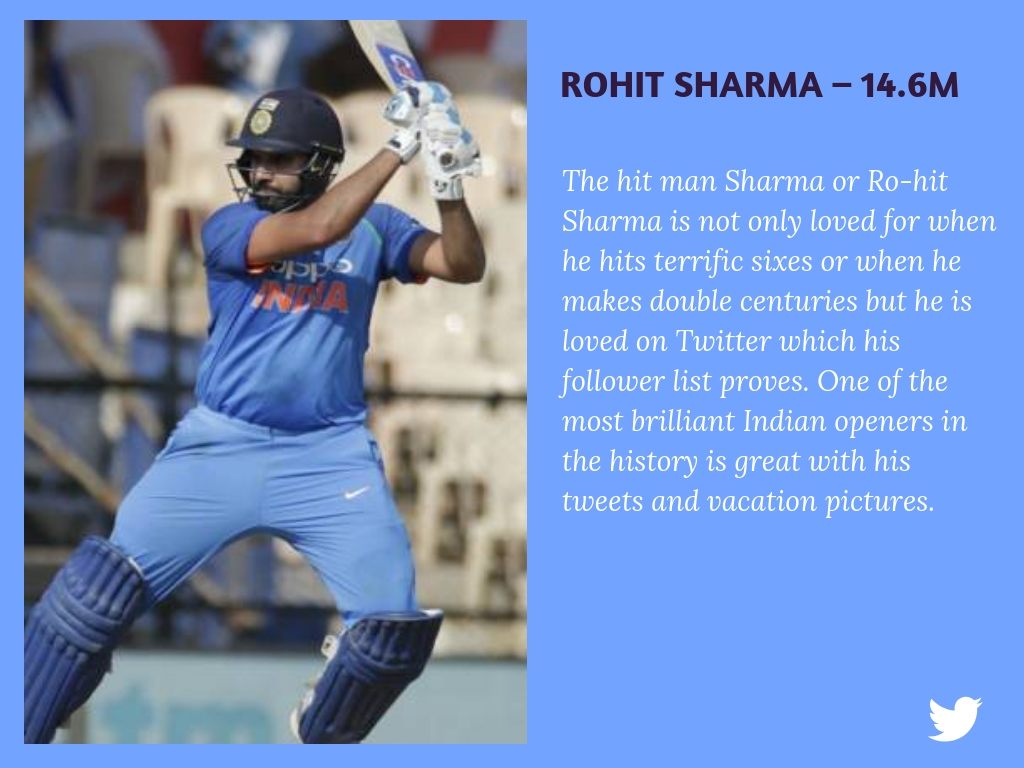 4. Rohit Sharma – 14.6M
The hit man Sharma or Ro-hit Sharma is not only loved for when he hits terrific sixes or when he makes double centuries but he is loved on Twitter which his follower list proves. One of the most brilliant Indian openers in the history is great with his tweets and vacation pictures.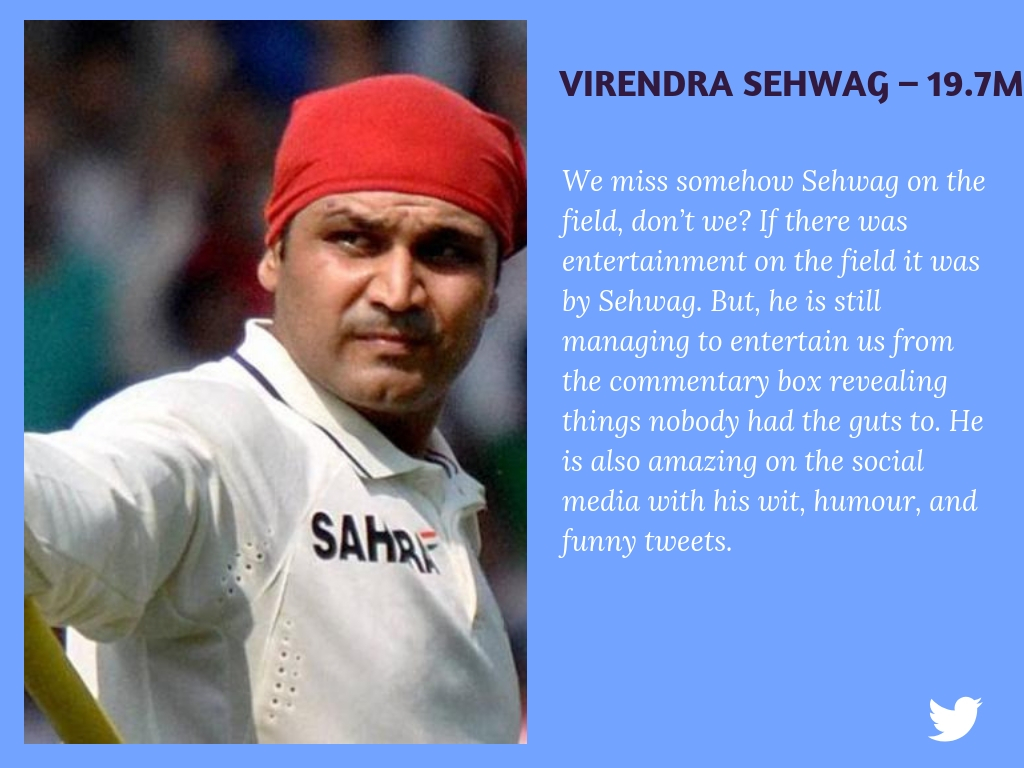 3. Virendra Sehwag – 19.7M
We miss somehow Sehwag on the field, don't we? If there was entertainment on the field it was by Sehwag. But, he is still managing to entertain us from the commentary box revealing things nobody had the guts to. He is also amazing on the social media with his wit, humour, and funny tweets.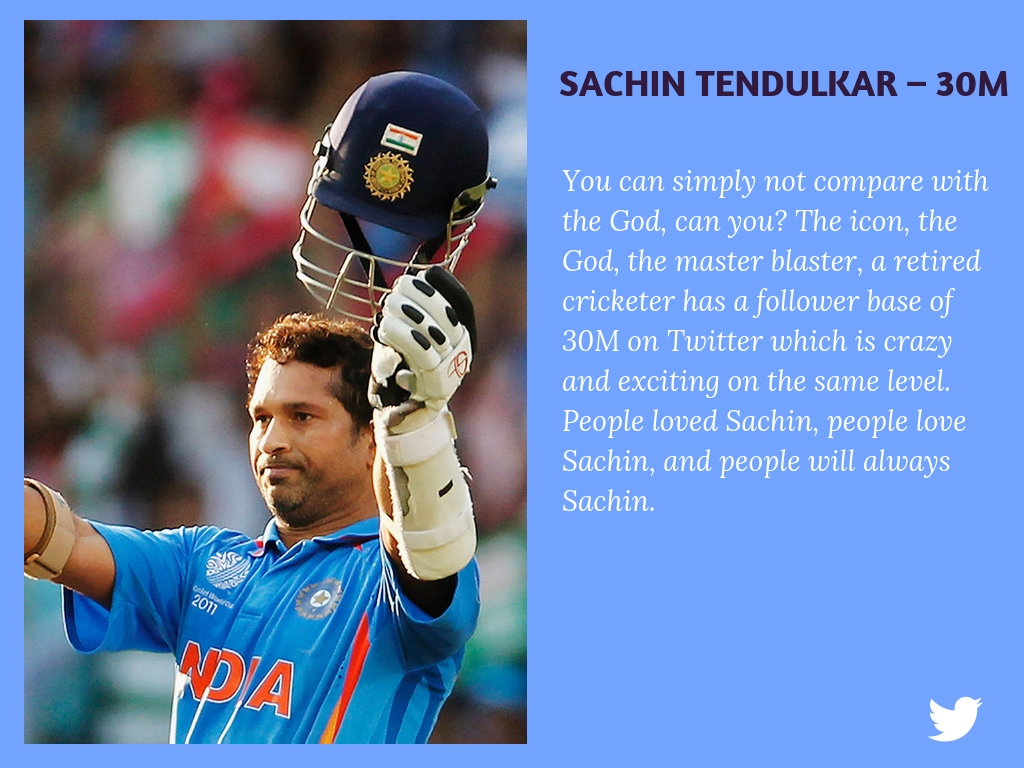 2. Sachin Tendulkar – 30M
You can simply not compare with the God, can you? The icon, the God, the master blaster, a retired cricketer has a follower base of 30M on Twitter which is crazy and exciting on the same level. People loved Sachin, people love Sachin, and people will always Sachin.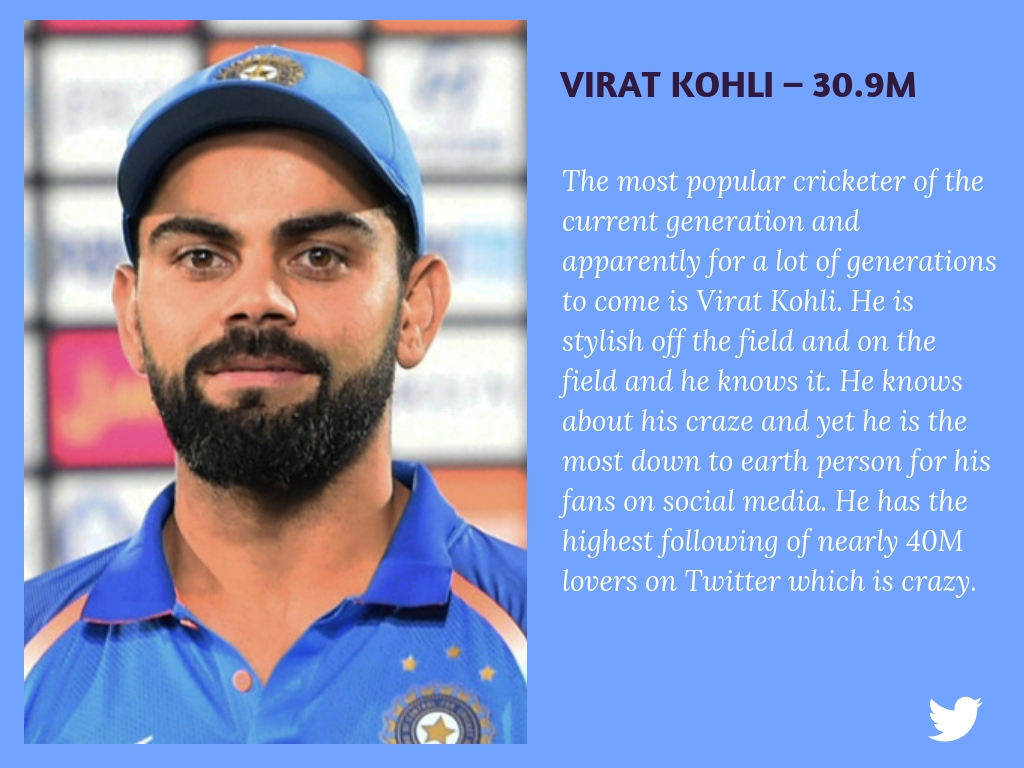 1. Virat Kohli – 30.9M
The most popular cricketer of the current generation and apparently for a lot of generations to come is Virat Kohli. He is stylish off the field and on the field and he knows it. He knows about his craze and yet he is the most down to earth person for his fans on social media. He has the highest following of nearly 40M lovers on Twitter which is crazy.