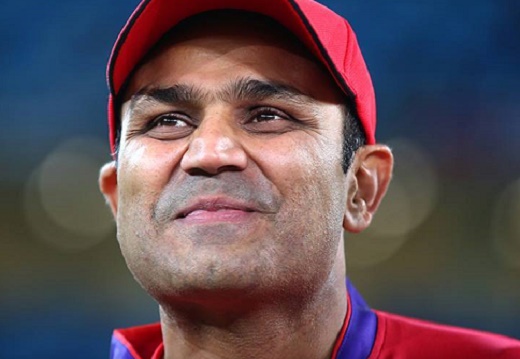 Facebook, one of the most used social media sites, has become a part of most of the people active on internet. Sportspersons too aren't different and have been using Facebook for networking and interacting with their fans. Cricketers, who are treated like demi-gods in our country have million of fan following on Facebook as well. Some of the cricketers even beat Bollywood stars in fan following on Facebook.
Let's take a look at the top 10 most followed Indian cricketers on Facebook:
10. Irfan Pathan: With 4.5 million followers, the Indian all-rounder is a craze on the social networking site. Though he has been out of the Indian squad for quite sometime now, it does not seem to have affected his fan following.
9. Harbhajan Singh: The Turbanator with over 5.5 million Facebook followers is among the top 10 cricketers with massive fan base on the social networking site. The Indian off-spinner is very active on social media and often keeps his fans engaged by posting comments and latest pictures. He even share videos with his fans.
8. Shikhar Dhawan: The Delhi southpaw is also hot on Facebook. With over 6.9 million followers, the dashing batsman fings a place in the top most liked cricketers on Facebook. Dhawan is very popular among youngsters for his Facebook posts and pictures.
7. Gautam Gambhir: The Kolkata Knight Riders captain with over 6.9 millions followers is also among the top 10 followed cricketers on Facebook. Being in and out of the Indian cricket team hasn't affected the popularity of 2011 World Cup final hero. Gambhir is also active on Facebook, sharing his day to day pictures and videos.
6. Rohit Sharma: Popularity of Rohit Sharma can be gauged from the fact that he has over 10 million facebook followers. The Mumbai Indian skipper is very regular in posting pictures and sharing updates with with his fans. He also uses Facebook to endorse brands.
5. Virender Sehwag: With to say about the 'King of Twitter', who is equally popular on Facebook with over 13 million fan following. The former Indian opener who enthralled the crowd with his dashing batting, is equally witty with his posts on Facebook. Sehwag is always on news for his posts.
4. Yuvraj Singh: The heartthrob who recently got married to model-turned-actor Hazel Keech has over 13.4 million followers on facebook. The hero of 2011 World Cup and the man who hit Stuart Broad for six sixes in six balls is a one of the most popular and loved cricketers on Facebook. Yuvraj who underwent as lot of personal agony during cancer treatment, got a lot of support from his fans on Facebook during that period. He was quite active recently when he shared his marriage pictures on Facebook.
3. MS Dhoni: With over 19.5 million followers, Captain Cool is undoubtedly one of the most popular and revered cricketers in the world. The Indian captain has fans beyond boundaries. Already one of the most successful captains in the cricketing world, Dhoni often brings smiles to his fans by sharing pictures of his cute daughter on the social networking site.
2. Sachin Tendulkar: What to say about the 'Godd of Cricket'. With over 27.19 million followers, the cricket legend is one of the most followed athletes in the world. His list of fans included celebrities and other renowned athletes. Sachin is active on Facebook and posts videos and pictures for his fans. Every post of Sachin no less than a news for his fans.
1. Virat Kohli: The poster boy of Indian cricket is the most popular Indian sportsperson with over 30.22 million followers on Facebook. The Indian Test team captain has not only impressed one and all with his impressive batting and captaincy but has already gained enormous followers for his style sense. He is not only active on the field, but off the field as well. His 'love affair' with actress Anushka Sharma adds spice in his personal life, increasing the number of his followers everday.