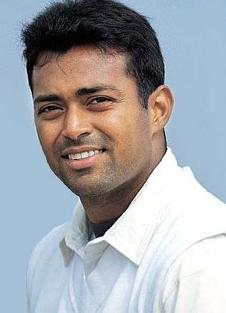 1) Leander Adrian Paes:
born on 17 June 1973 in Kolkota is an Indian professional tennis player. who is considered to be one of the greatest and most respected contemporary doubles and mixed doubles players in the world. Apart from his twelve Grand Slam victories at doubles and mixed doubles events, he is famous for his several memorable Davis Cup performances playing for India and also for winning a bronze medal for India in the 1996 Atlanta Olympic Games. He also achieved the rare Men's Doubles/Mixed Doubles double during the 1999 Wimbledon. Won Australian Open Mixed Doubles in 2006.
After winning the Mixed Doubles in Wimbledon 2010, Leander Paes became only the second man (after Rod Laver) to win Wimbledon titles in three different decades. He is the recipient of India''s highest sporting honour, the Rajiv Gandhi Khel Ratna award in 1996–1997, the Arjuna Award in 1990, and the Padma Shri award in 2001 for his outstanding contribution to tennis in India.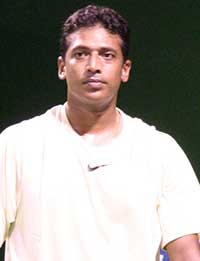 2) Mahesh Shrinivas Bhupathi
born on 7 June 1974 in Chennai is an Indian professional tennis player widely regarded as among the best doubles players in the world with 11 Grand Slam titles to his credit. In 1997, he became the first Indian to win a Grand Slam tournament. In 2002, Bhupathi paired with Max Mirnyi and went on to grab the US Open Doubles title. With his win of the Australian Open Mixed Doubles in 2006, he joined the elite group of eight tennis players who have achieved a Career Mixed Doubles Grand Slam. In 2009, Bhupathi-Sania Mirza team grabbed the mixed doubles title at the Australian Open. He was awarded the Padma Shri in 2001. Bhupathi is an alumnus of the University of Mississippi in the United States.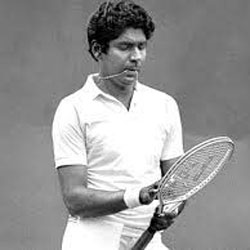 3) Vijay Amritraj
born on December 14, 1953 in Tamilnadu is a former Indian tennis player. After playing his first grand prix event in 1970. Amritraj achieved his first significant success in singles in 1973 when he reached the quarter-final stage at two Grand Slam events. Amritraj was the captain of the Indian Davis Cup for much of the late 1970s and 1980s, helping India reach the finals in 1974 and He compiled a career singles win-loss record 384-296, winning 16 singles titles to go along with 13 in doubles. He beat the best, including John McEnroe at his peak in 1984. He had five career wins over Jimmy Connors in their 11 matches. He reached his career high ranking in singles of World No. 16 in July 1980.Hewas a also good actor.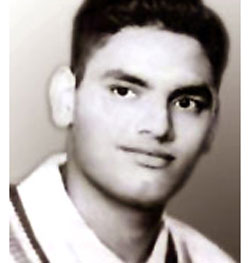 4) Ramanathan Krishnan
born on11 April 1937, in Madras, India is a retired tennis player who was among the world's leading players in the 1950s and 1960s. In 1954, he became the first Asian player to win the boy's singles title at Wimbledon. In 1961, Krishnan reached the Wimbledon semi-finals. Krishnan received his highest seeding at Wimbledon (#4) in 1962. Krishnan was a key member of the Indian team which reached the final of the Davis Cup in 1966. Krishnan also won the Indian national tennis title for eight years at a stretch. Krishnan received the Arjuna award in 1961, the Padma Shri in 1962 and the Padma Bhushan in 1967. Krishnan has also writtena book titled "A touch of tennis".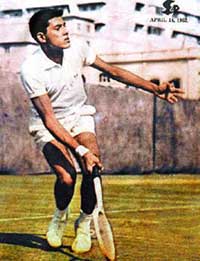 5) Jaidip Mukerjea
born on April 21, 1942, in Kolkata is a retired professional tennis player. Mukerjea is the grandson of Indian independence leader Chittaranjan Das.Mukerjea won the Indian National Junior Championship in 1959. He then began to play overseas, and was the runner-up at the Wimbledon Junior tournament in 1960. He reached the fourth round at Wimbledon in 1963 and 1964, and reached the fourth round at the French Championships in 1965. 1966 was Mukerjea''s most successful year. He again reached the fourth round at the French Championships and Wimbledon. He was also a member of the India Davis Cup team that reached the final. Mukerjea was given the Arjuna Award in 1966.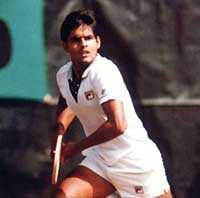 6) Ramesh Krishnan
born on June 5th, 1961 in Tamilnadu is a former professional tennis player. As a junior player in the late-1970s, he won the boy's singles titles at both Wimbledon and the French Open. He went on to reach three Grand Slam quarter-finals in the 1980s, and was part of the Indian team which reached the final of the Davis Cup in 1987. At the senior level, Ramesh reached the quarter-finals at Wimbledon once (1986) and the US Open twice (1981 and 1987). In the 1992 Olympic Games in Barcelona, Ramesh reached the men''s doubles quarter-finals partnering Leander Paes. Over the course of his career, he won eight top-level singles titles and one doubles title. His career-high singles ranking was World No. 23 (in January 1985). His career prize-money totalled US$1,263,130. In 1998, Ramesh was awarded the Padma Shri.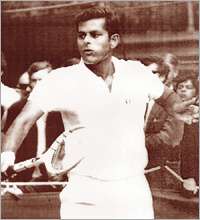 7) Premjit Lall
born on October 20, 1940 in Kolkota was a professional tennis player from India. Lall reached the Junior final at the 1958 Wimbledon Championships. He played on the India Davis Cup team from 1959 until 1973. His best Grand Slam singles performance was reaching the round of 16 at the 1962 Australian Championships. In doubles, his best Slam performance was reaching the Quarter finals at the 1962 Australian Championships and 1973 Wimbledon Championships, both times with Jaidip Mukerjea. Premjit had a distinguished Davis Cup career, compiling a 58-32 win-loss record. Among his most memorable Davis Cup singles victories was over Ray Ruffels of Australia He was given India's top sports honor, the Arjuna Award in 1967. He died in 2004.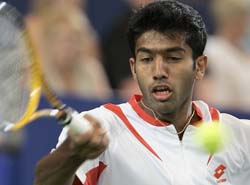 8) Rohan Bopanna
born on 4 March 1980 in Bangaluru is an professional tennis player and a doubles specialist who gained worldwide recognition for his partnership with Pakistani tennis player Aisam-ul-Haq Qureshi nicknamed - ''IndoPak Express''. Reached finals of U.S. Open men's doubles with partner Qureshi but were defeated 7-6 ,7-6 by The Bryan Brothers. He is the winner of two ATP doubles titles (2008 Los Angeles with Butorac and 2010 Johannesburg with Qureshi). On 15 November 2010 when he was ranked world no.13 by the ATP Rankings in doubles Interestingly, Rohan''s first ATP doubles title came in the 2008 Countrywide Classic in Los Angeles with Eric Butorac.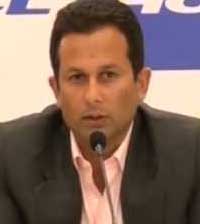 9) Gaurav Natekar
is a seven-time Indian National Tennis Champion. Represented the country in Davis Cup from 1992-97. Was member of the team that reached the semi-final in ''93. Double gold medallist at the Hiroshima Asian Games in 1994 (team event and doubles with Leander Paes)He won gold in SAF Games in Colombo ''93, Dhaka ''95, and Madras ''97. Won the National hard & grasscourt titles in singles and doubles in the same year (1992) Two National singles, seven doubles and five junior titles.

Highest ATP ranking: singles 272, doubles 167. He was awarded the Arjuna Award in 1996 for Tennis.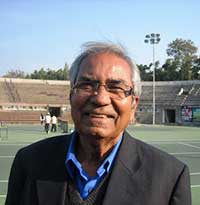 10) Akhtar Ali
born on 5 July 1939 in Kolkota is a former tennis player. He was the member of the Indian team that reached the final of Davis Cup in 1967. He was a member of the Indian Davis Cup team continuously from 1958 to 1964. Helping win the Eastern region in 1961Davis Cup. Former Captain of Indian Davis cup in 2008.Later he turned to coaching and coached the players like Ramesh Krishnan, Vijay Amritraj, Anand Amritraj and Leander Paes. Winner of the Arjuna Award in Lawn Tennis in 2000 and Dronacharya award 2001.
What''s your top 10? Share your list with ISN readers.