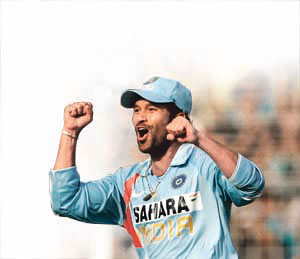 1) Sachin Tendulkar
Sachin Ramesh Tendulkar, born on April 24, 1973 is widely regarded as one of the greatest batsmen in the history of cricket. He is the leading run-scorer and century maker in Test and one-day international cricket. He is the only cricketer to score a double century in the history of ODI cricket. Tendulkar also holds the distinction of appearing is six consecutive cricket world cups, highest by any player.
Tendulkar is the first player to score fifty Test centuries, and the first to score fifty centuries in all international cricket combined; he now has 99 centuries in international cricket. He was also the first player to score 10,000 runs in one-day internationals and is the leading run getter in Tests. Tendulkar passed 30,000 runs in international cricket on 20 November 2009, and has been honoured with the Padma Vibhushan award, India's second highest civilian award, and the Rajiv Gandhi Khel Ratna award, India's highest sporting honour. Tendulkar became the first sportsperson and the first personality without an aviation background to be awarded the honorary rank of Group Captain by the Indian Air Force. He won the 2010 Sir Garfield Sobers Trophy for cricketer of the year at the ICC awards.
2) Kapil Dev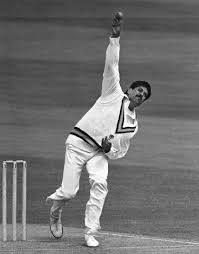 Kapil Dev Ramlal Nikhanj born on January 6 1959, Chandigarh Punjab, India captained the Indian cricket team which won the 1983 Cricket World Cup. Named by Wisden as the Indian Cricketer of the Century in 2002, Kapil Dev was also India''s national cricket coach for 10 months between October 1999 and August 2000.
Kapil was a right-arm pace bowler noted for his graceful action and potent out swinger and was India''s main strike bowler for most of his career. He also developed a fine in swinging Yorker during the 1980s, which he used very effectively against tail-enders. As a batsman, he was a natural striker of the ball who could hook and drive effectively. A naturally aggressive player, he often helped India in difficult situations by taking the attack to the opposition. Nicknamed The Haryana Hurricane, he represented the Haryana cricket team in domestic cricket. He retired in 1994, holding the world record for the most number of wickets taken in Test Cricket, a record subsequently broken by Courtney Walsh in 2000. At the time, he was also India''s highest wicket taker in both major forms of cricket, Tests and ODIs).
He is the only player in the history of cricket to have taken more than 400 wickets and scored more than 5,000 runs in Test Cricket, making him one of the greatest all-rounders to have played the game. On 8 March 2010, Kapil Dev was inducted into the ICC Cricket Hall of Fame. He was also inducted into the Indian Territorial Army and was commissioned as a Lieutenant Colonel.
3) Sunil Gavaskar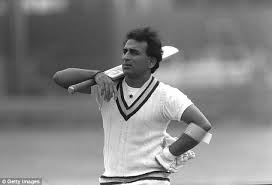 Sunil Manohar Gavaskar born on July 10 1949, in Bombay is a former cricketer who played during the 1970s and 1980s for Bombay and India. Widely regarded as one of the greatest opening batsmen in Test cricket history, Gavaskar set world records during his career for the most runs and most centuries scored by any batsman. He held the record of 34 Test centuries for almost two decades before it was broken by Sachin Tendulkar in December 2005.
Gavaskar was widely admired for his technique against fast bowling, with a particularly high average of 65.45 against the West Indies, who possessed a four-pronged fast bowling attack regarded as the most vicious in Test history. His captaincy of the Indian team, however, was less successful. The team at one stage went 31 Test matches without a victory.

Gavaskar stood at just 165 cm. After missing the First Test due to an infected fingernail, Gavaskar scored 61 and 67 not out in the second Test in Port-of-Spain, Trinidad, hitting the winning runs which gave India its first ever win over the West Indies. He followed this with his first century, 116 and 64* in the Third Test in Georgetown, Guyana, and 1 and 117* in the Fourth Test in Bridgetown, Barbados. He returned to Trinidad for the fifth Test and scored 124 and 220 to help India to its first ever series victory over the West Indies, and the only one until 2006. His performance in the Test made him the second player after Doug Walters to score a century and double century in the same match. He also became the first Indian to make four centuries in one Test series, the second Indian after Vijay Hazare to score two centuries in the same Test and the third after Hazare and Polly Umrigar to score centuries in three consecutive innings. He was the first Indian to aggregate more than 700 runs in a series, and this 774 runs at 154.80 remains the most runs scored in a debut series by any batsman.
4) Anil Kumble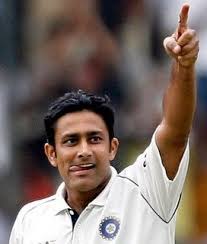 Anil Kumble, born on October 17, 1970 is a former Indian cricketer and captain of the Indian Test cricket team. He is a right-arm leg spin (leg break googly) bowler and a right-hand batsman. He is currently the leading wicket-taker for India in both Test and One Day International matches. At present he is the third highest wicket-taker in Test cricket and one of only three bowlers to have taken more than 600 Test wickets. Kumble has had success bowling with other spinners, notably Venkatapathy Raju and Rajesh Chauhan in the 1990s and Harbhajan Singh since 2000.

Kumble was appointed the captain of the Indian Test cricket team on 8 November 2007. His first assignment as captain was the three-test home series against Pakistan that India won 1-0. Then he led the Indian Test team on its tour to Australia for the 2007-08 four-test series of The Border-Gavaskar Trophy that India lost 1-2. Kumble succeeded his state team mate Rahul Dravid, who resigned as the captain in September 2007. Since his debut in international cricket on 25 April 1990, he has taken 619 Test wickets and 337 ODI wickets. Although often criticized as not a big turner of the ball, Kumble is the second highest wicket taker among leg spinners in Test cricket behind leg spinner Shane Warne of Australia and the third of all bowlers after Warne and off spinner Muttiah Muralitharan of Sri Lanka and has claimed 619 Test wickets. He is one of only two bowlers in the history of cricket to have taken all 10 wickets in a Test innings, the other being Jim Laker of England. He was awarded the Padma Shri, India's 4th highest civilian honour, by the Government of India in 2005. After playing for India for 18 years, he announced his retirement on November 2, 2008. His last match was against Australia at the Feroz Shah Kotla in Delhi.
5) Rahul Dravid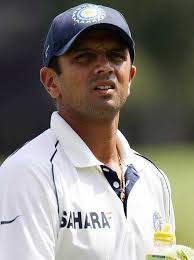 Rahul Sharad Dravid born on January 11, 1973 is one of the most experienced cricketers in the Indian national team, of which he has been a regular member since 1996. He was appointed as the captain of the Indian cricket team in October 2005 and resigned from the post in September 2007. Dravid was honoured as one of the five Wisden Cricketers of the Year in 2000. Dravid was also awarded the ICC Player of the Year and the Test Player of the Year at the inaugural awards ceremony held in 2004. On 27th December 2010, he took his 200th Test catch to get rid of Dale Steyn.

Known as the Wall due to his ability to bat for long durations, and Jammy due to his endorsement of Kissan, a jam company, and also because his father worked for Kissan, Dravid holds multiple world cricketing records. He is the second Indian batsman, after Sachin Tendulkar, and the third international player to have scored more than 12,000 runs in Test cricket. On 14 February 2007, he became the sixth player in the history of world cricket and the third Indian, after Sachin Tendulkar and Sourav Ganguly, to score 10,000 runs in ODI cricket. He is the first and the only batsman to score a century in all 10 Test playing nations. Dravid currently holds the world record for the highest number of catches in Test cricket. Dravid has also been involved in more than 80 century partnerships with 18 different partners and has been involved in 19 century partnerships with Sachin Tendulkar — a world record.
6) Sourav Ganguly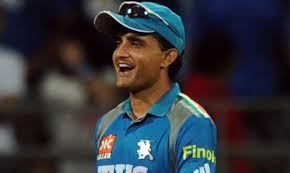 Sourav Chandidas Ganguly is regarded as one of India''s most successful captains in modern times. He is the 5th highest run scorer in One Day Internationals (ODIs) and was the 5th person in history to cross the 10,000 run landmark. He is only the 2nd Indian to cross that mark in ODIs, after Sachin Tendulkar. Wisden ranked him the sixth greatest one day international batsman of all time, next to Viv Richards, Sachin Tendulkar, Brian Lara, Dean Jones and Michael Bevan. He was India''s most successful Test captain - forging a winning unit from a bunch of talented, but directionless, individuals - and nobody can argue about him being one of the greatest one-day batsmen of all time. Despite being a batsman who combined grace with surgical precision in his strokeplay, his career had spluttered to a standstill before being resurrected by a scintillating hundred on debut at Lord''s in 1996. Later that year, he was promoted to the top of the order in ODIs and, along with Sachin Tendulkar, formed one of the most destructive opening pairs in history.
7) Mansur Ali Khan Pataudi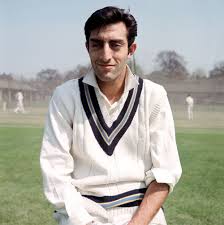 The Nawab of Pataudi was, arguably, India''s greatest captain ever. Taking over the reins of the Indian team at the age of 21, barely months after being involved in a car accident that would impair the sight in his right eye forever, he led India in 40 of 46 Tests he played in, and won 9 of them. But more than anything else, he led Indian cricket out of its morass of defeatism and instilled in his fellow cricketers a belief that winning was possible. Under him, India achieved their first overseas Test victory against New Zealand in 1967.

He is widely recognised as one of the finest tacticians of his time, a trait which helped bring spin bowling to the forefront of India's gradual rise to the top. Pataudi realised spin was India's strength and he built upon it. He'd often play three spinners in the side. This is best reflected in the fact that Bishan Singh Bedi, Erapalli Prasanna and S Venkataraghavan all had better averages and strike-rates under Pataudi. Pataudi was an attacking batsman. After his schooling in Dehradun, he went to Winchester College, where he made over 2,000 runs in a season.
8) Mohammad Azharuddin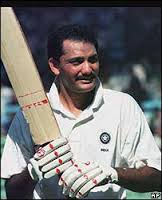 Mohammad Azharuddin born on February 8, 1963 and better known as Azhar is an Indian cricketer. He was an accomplished batsman and captained the Indian cricket team for much of the 1990s, until his involvement in a match-fixing scandal forced him into retirement.

In his prime, he had a graceful, fluid batting style, comparable to that of his English contemporary, David Gower and Australian batsman Greg Chappell. The wrist flick was his most characteristic shot and he fared best against spinners. Azhar scored a total of 22 centuries in Test cricket at an average of 45, and 7 in ODIs at an average of 37. He has distinction of scoring a century in each of his first three Tests – a feat unmatched till date. An excellent fielder, he took 156 catches in ODI cricket which was a world record until Mahela Jayawardene surpassed him. He held world records for maximum ODI runs and fastest ODI hundred. He also has probably unique record of scoring centuries in his first and last Test.

In 1991 he was named Wisden Cricketer of the Year and was for many years an inspirational figure in the Indian team with his athletic fielding and leadership.
9) Vinoo Mankad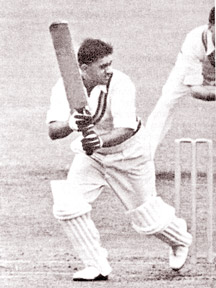 Mulvantrai Himmatlal Mankad born on April 12, 1917 was an effective batsman and slow left arm orthodox bowler. He played in 44 Tests for India and made 2109 runs at an average of 31.47 including five Test centuries with a top score of 231. He also took 162 wickets at the average of 32.32, including eight five-wicket hauls. He is one of the three cricketers to have batted in every position, from the first to the last, during his Test career.

Mankad's best performance was against England at Lord's in 1952. In the first innings he top-scored with 72. During England's first innings, he bowled 73 overs and took 5 wickets for 196 runs. In India's second innings in that Test match, he top-scored again with 184 runs out of India's total of 378. Though England won the game easily, Mankad's all-round performance salvaged India's pride in a series where they were heavily overmatched. Mankad was the first player in more than 30 years to score a 100 and take five wickets in the same Test and the first Indian to achieve this feat.

Also memorable was his role earlier in the same year against England in Madras. He took 8/52 in England's first innings and 4/53 in the second helping India beat England for the very first time in a Test match.

In 1956 he hit 231 against New Zealand at Chennai and together with Pankaj Roy established the world record opening partnership of 413 runs which stood for 52 years. His score was a Test record for India at the time and would remain so until it was broken in 1983 by Sunil Gavaskar.
10) Vijay Hazare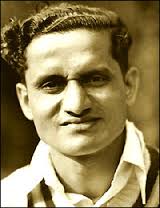 Vijay Samuel Hazare born on March 11 1915 captained the Indian cricket team in 14 matches between 1951 and 1953. In India's 25th Test match, nearly 20 years after India achieved Test status, he led India to her first ever Test win (and the only victory under his captaincy) in 1951-52 against England at Madras, winning by an innings and eight runs.

He will be always remembered for his great performance on India's first tour of Australia in 1947-48, when he scored a century in each innings of the Adelaide Test. It was a huge effort against the run of play. Australia had piled up 674 runs, and as Hazare made his second-innings 145, with India following on, six of his team-mates failed to score. Australia won by an innings and 16 runs. Hazare captained India 14 times and finished his career with a batting average of 47.65 from 30 Tests, but it was his Adelaide effort that seems to have made Hazare's reputation, for he was always at his best when fighting against the odds. He died on December 18, 2004.
What''s your top 10? Share your list with ISN readers.