1. Saina Nehwal (Badminton)
Saina Nehwal, the prodigy from Hyderabad is regarded as the princess of Indian badminton.She was born in Hissar on March 17th 1990. Currently she is number four on the world rankings. Recipient of the prestigious Rajiv Gandhi Khel Ratna award, Saina is the first Indian woman to reach the singles quarter-finals at the Olympics and the first Indian to win the World Junior Badminton Championships. Saina recently made a hat-trick after winning Singapore Open, Indian Open Grand Prix Gold and Indonesian Open. Her natural beauty and glare has made her feature on ramps. Hyderabad Fashion weeks were first shows she walked the ramp for famous designers.
2. Sania Mirza (Tennis)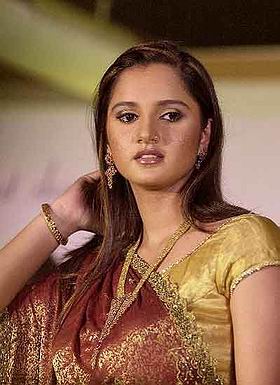 Sania Mirza was the first women Muslim Tennis Player in India. She was born in Mumbai on November 15th; 1986. Sania won the mixed doubles event at the 2009 Australian Open where she was paired with Mahesh Bhupati. She is the first Indian woman to win a Grand Slam title. In 2006, Doha Asian Games, Mirza won the silver in the woman's singles category and the gold in the mixed doubles partnering Leander Paes. Sania has been honored with the prestigious Padam shri in 2006 and Arjuna Award in 2004. Her unique dressing style has often led her to controversies. She has withstand all the controversies her self confidence.She is the brand ambassador of posh brands like Adidas, TVS Scooty Pep, Hyundai Getz and a lot more. She has also featured in few shows on television as well.
3. Dipika Pallikal (Squash)
Dipika is squash player from India. Born on September 21st, 1991, in Chennai, she played her first international tournament when she was in middle school.She has won German Open, French Open, Dutch Open, Australian Open, Scottish Open on the European Junior Squash Circuit. Currently she is the top women squash player representing India along with Joshna Chinnapa. Dipika is ranked 35th in world Rankings. Dipika is currently modelling for Globus Ltd.
4. Tania Sachdeva (Chess)
Born on August 20th, 1986 in Delhi, Tania won her first chess championship when she was eight-years-old. A graduate from Delhi University, she was Asian U-14, Junior and Senior Champion, and won the National Indian Women Championship in 2006 and 2007. She was conferred with the Arjuna award in 2009. She was seen on ramp in Wills Lifestyle India Fashion Week, in New Delhi in 2009 for various famous designers.
5. Pratima Singh (Basketball)
Pratima Singh, who hails from Varanasi, was born on Febuary 6th, 1990. She is the member of Indian Women's National Basketball Team. She has been awarded best player in many National and State Championships. When University of Delhi won a gold medal in the All India University Basketball Championship at Nallor, she was the Vice Captain of the team. She is passed out of Jesus and Mary College, Delhi. Currently pursuing Masters from IGI, Delhi.
6. Shikha Tandon (Swimming)
Shikha who is based out of Bangalore is a versatile Indian swimmer. She was the only swimmer who represented India in 2004 Olympics in Athens. She was awarded the Arjuna award in 2005. She holds more than seven National records in swimming along with several other distinctions to her credit.
She was adjudged "best swimmer" at the 57th National Aquatic Championships.
7. Sharmila Nicollet (Golf)
Sharmila Nicollet is a 19-year-old golfer from Bangalore. She is the best professional women's golfer from India and leads the Order of Merit. Her looks and sharp features besides her golfing ability indeed make her a must on this list.
8. Akansha Singh (Basketball)
Akanksha Singh is the member of national women team. In 2010, Akanksha Singh was awarded the Most Valuable Player in India's first Professional Basketball league, MBPL 2010. She became one of the first ever Top Four Players to achieve the 'A' Grade from the Basketball Federation of India sponsored by IMG Reliance. She is very agile and one of the very skilled ball handlers of the country right now.
She has stunned people by her charismatic skills and shooting. She has been awarded Best Player in many National and state Championships. In her Captaincy, University of Delhi won gold medal in All India University basketball Championship at Nallor, where she was given joint best player award along with her sister Pratima Singh. She belongs to Varanasi''s BASKETBALL FAMILY OF INDIA where four out of five sisters have played or playing for Indian national team.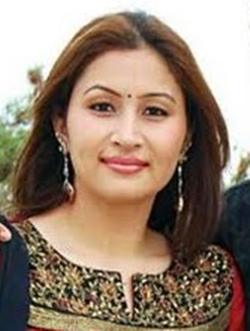 9. Jwala Gutta (Badminton)
A 27-year-old Jwala Gutta was born at Wardha , on September 7, 1983 .She has won the National Badminton Championship seven times. Her first International Badminton event was held in 2002, when she played at the Asia Satellite tournament. She won 2006 Sri Lanka International Satellite tournament and in 2007 she won Cyprus International Badminton tournament. She even won the Pakistan Challenge International tournament and the Indian International Badminton tournament. She is known for her sharp wit, beauty and a confident approach.

10. Shikha Uberoi (Lawn Tennis)
Indian origin Shikha Uberoi, was born on April 5, 1983 in USA. She began playing tennis at the age of six. She took the game at Saddle brook Resort and Ballotter and Hopman Academies. She made her first Gland Slam appearance at the US Open in 2004. Shikha has won three ITF Women's Circuit singles titles .


What's your top 10? Share your list with the ISN readers.