1. Dhyan Chand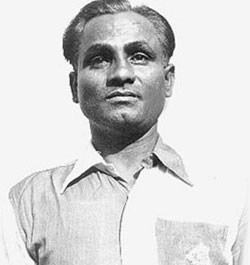 Dhyan Chand Singh is one of the best hockey players of the world that India has ever produced. He has probably been the only Indian player ever in any sport whose skills were so high that it generated a number of myths about his abilities as a hockey player. He was awarded the Padma Bhushan in 1956 and has won 3 Olympic golds.
2. Balbir Singh Sr.
Balbir Singh Dosanjh, popularly known as Balbir Singh Senior has been a former Indian Hockey player who has represented the nation in 3 Olympic Games and won gold every time he participated in Olympics. He also coached Indian Hockey team for some time. He was the first hockey player to be awarded the Padma Shri.
3. Roop Singh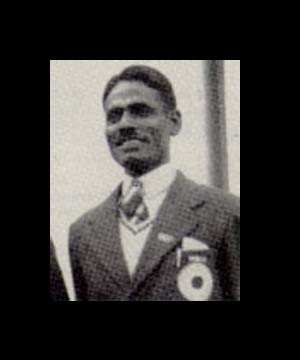 Younger brother of Indian Dhyan Chand, Roop Singh was an equally talented player who let his elder brother take all the accolades. He was also the member of the winning team that won gold medals for India at 1932 and 1936 Olympic Games. Roop Singh believed in dressing well and just before the team was to leave for the 1932 Olympics, he refused to go because he did not have the right clothes for the occasion. Dhyan Chand had to look around for some new clothes before Singh finally agreed to go. He never argued with umpires on any umpiring decision. After the final of the 1936 Summer Olympics, Germans were so impressed with him that they named a street after him. He was in the armed forces of the Maharaja of Scindia.
4. Leslie Claudius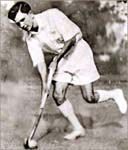 Leslie Walter Claudius was an Indian Hockey Player. An Anglo-Indian by origin, he holds a Guinness World Record for being part of a Hockey team to win maximum number of medals at the Olympic Games(3 gold and 1 silver). He was conferred with Padma Shri in 1971.
5. Udham Singh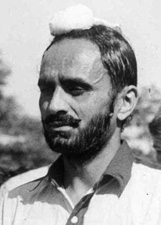 Udham Singh Kular, famous as Udham Singh was an Indian Hockey player known to be one of the finest Hockey players India has ever produced. Udham has been the only Hockey player in the history of the game to have been able to grab 3 Gold Medals and 1 Silver Medal in Olympic events.
6. K D Singh Babu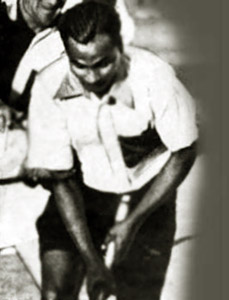 Kunwar Digvijay Singh, usually known as K.D. Singh "Babu" was an Indian Hockey player who is considered to be one of the best Inside Rights that Indian Hockey has ever witnessed. He has Padma Shri in 1960 to his credit and has won gold medals in 1948 and 1952 Olympics.
7. Shankar Lakshman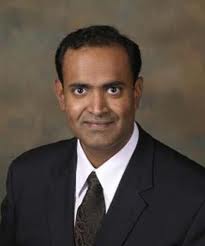 He was goalkeeper of the Indian team in the 1956, 1960 and 1964 Olympics that won two gold medals and one silver medal. He was the first goalkeeper to become captain of an international hockey team and was awarded the Arjuna award and the Padmasri by the Indian government. He was captain of the Indian team which won the gold in the 1966 Asian Games. He belonged to Mhow and lived his retired life there until is death in 2006.
8. Dhanraj Pillay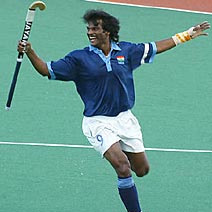 Dhanraj Pillay has been one of the best Hockey players of India and had captained India for few years. An extremely good forward with sharp attacking attitude, he has been awarded with PadmaShri and Rajiv Gandhi Khel Ratna Award.
9. Ajit Pal Singh


Ajit Pal Singh has been an Indian Hockey Player, and considered to be one of the most charismatic centre halves the world hockey has ever seen. Apart from playing for the Indian Hockey team, he also led the team to win the World Cup Hockey in 1975. He was awarded with Arjuna Award in 2002.
10. Mohammed Shahid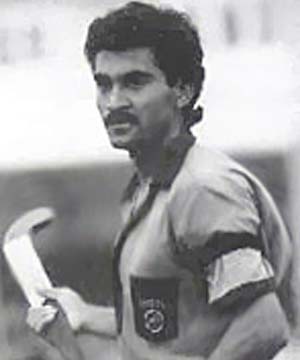 Mohammed Shahid has been an Indian Hockey player, very much famous because of his amazing dribbling skills and considered to be one of the best dribblers in the world of all times. He was felicitated with Arjuna Award in 1980-81 and Padma Shri in 1986.
What's your top 10? Share your list with the ISN readers.