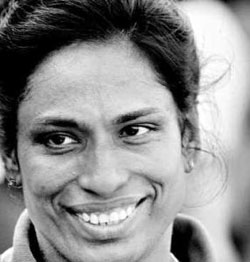 1. P.T. Usha (Track and field)
Pilavullakandi Thekkeparambil Usha was born on June 27, 1964. She is popularly known as P. T. Usha.and hails from Kerala. Usha has been associated with Indian athletics since 1979. She is regarded as one of the greatest athletes India has ever produced and is often called the "queen of Indian track and field". She is nicknamed Payyoli Express. Currently she runs the Usha School of Athletics at Koyilandy in Kerala. She has been honored with Arjuna Award and Padmashree.
In the 1982 New Delhi Asiad, she got silver medal in the 100 m and the 200 m, but at the Asian Track and Field Championship in Kuwait a year later, Usha took gold in the 400 m with a new Asian record. Between 1983-89, Usha garnered 13 golds at ATF meets. She finished first in the semi-finals of the 400 metres hurdles in the 1984 Los Angeles Olympics, but faltered in the finals. In almost a repeat of Milkha Singh''s 1960 feat, there was a nail-biting photo finish for the third place. Usha lost the bronze by 1/100th of a second. She became the first Indian woman (and the fifth Indian) to reach the final of an Olympic event by winning her 400 m hurdles Semi-final.
In the 10th Asian Games held at Seoul in 1986, P. T. Usha won 4 gold and 1 silver medal in the track and field events.
2. Bachendri Pal (Mountaineering)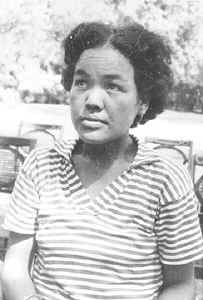 Bachendri Pal was the first Indian woman to reach the summit of Mt. Everest, in 1984. Pal is based out of Uttarkashi.
Pal led an all-woman team to Everest, and in 1994, led an all-woman rafting team down the Ganga, from Hardwar to Calcutta. In 1997, Bachendri Pal was the leader for an all-woman, seven month traverse of the Himalayas, which, unfortunately, was a futile attempt. She has also served as mountaineering instructor for women.
She is currently employed as deputy divisional manager (adventure programmes), Tata Steel Adventure Foundation.
3. Anju Bobby George (Track and field)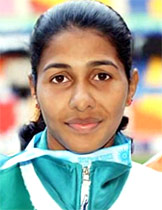 Anju Bobby George was born on April 19, 1977 in the state of Kerala. Anju made history when she won the bronze medal in Lomg Jump at the 2003 World Championships in Athletics in Paris. With this achievement, she became the first Indian athlete ever to win a medal in a World Championships in Athletics .
She went on to win the silver medal at the IAAF World Athletics Final in 2005, a performance she considers her best. One of the top ranking Indian athletes, Anju Bobby George has made India proud in major events like Olympics, Commonwealth games and lots more.
4. Saina Nehwal (Badminton)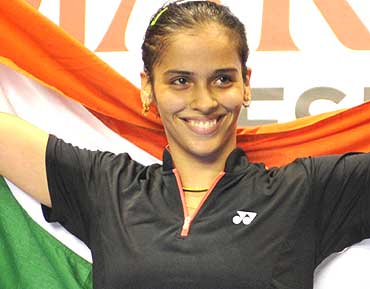 Saina Nehwal was born on March 17, 1990, in Hyderabad is an Indian Khel Ratna winning badminton player currently ranked number fourth in the world by Badminton Federation. Saina is the first Indian woman to reach the singles quarterfinals at the Olympics and the first Indian to win the World Junior Badminton Championships.
Saina Nehwal made history on June 21, 2009, becoming the first Indian to win a Super Series tournament, by clinching the Indonesia Open with a stunning victory over higher-ranked Chinese Wang Lin in Jakarta.
5. Sania Mirza (Tennis)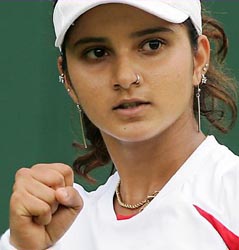 Sania Mirza was born on November 15 1986. She is a professional Indian tennis player. She began her tennis career in 2003 and is known for her powerful forehand ground strokes. Mirza is ranked as No.73 in the world according to the Women's Tennis Association singles rankings, and reached career high ranking as 27 in the world on August 27, 2007. She is the first ever Indian to break into the top 30 WTA rankings.
In 2004 she was awarded the Arjuna award by the Indian Gogernment In 2006, Mirza was awarded a Padma Shri, India''s fourth highest honor for her achievements as a tennis player. In March 2010, The Economics Times named Sania Mirza in the list of the "33 women who made India proud".
6. MC Mary Kom (Boxing)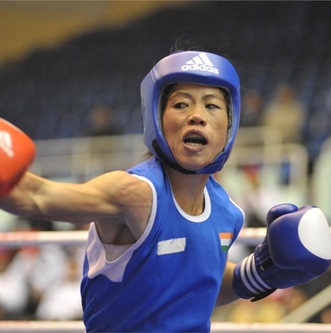 MC Mary Kom or Mary Kom is a female boxer from Manipur and is five times World Boxing Champion. She came back from a two-year sabbatical to clinch her fourth successive World Amateur boxing gold in 2008, a feat that prompted the AIBA to describe her as ''Magnificent Mary''.
She was earlier an athlete and switched to boxing after the success of fellow Manipur boxer Dingko Singh. Mary Kom had won four title of World Boxing Championship in the 46 kg category but her fifth title came in the 48 kg category. Mary Kom is the only boxer to have won a medal in each one of the six World Championships.

She is the only women boxer to have been awarded with the Arjuna Award and the Rajiv Gandhi Khel Ratna.
7. Karnam Malleswari (Weightlifting)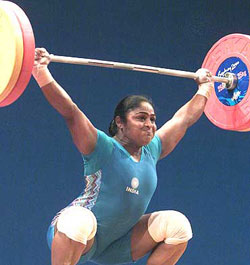 Karnam Malleshwari was one of the most accomplished sports personality India has ever produced. All through her career she made India proud by winning medals on world stage.
In 1995, Malleswari won the world weightlifting title in her class (54 kg) with a new record by lifting 113.0 kg in the clean and jerk. Malleswari, who went on to win the contest''s gold medal, beat the previous record of 112.5 kg set by China''s Long Yuling in December 1993. She also won the 1995 Asian championship.
She broke her own records in the Senior National Weightlifting Championship in 1997, and India''s first medal, a weightlifting silver, in the 1998 Asian Games. Her golden moment of glory came when she won the sole medal of India in the Sydney Olympics. She became the face saver of India when she won the bronze medal.

She was conferred with Arjuna Award in 1994. She is a recipient of the Rajiv Gandhi Khel Ratna award, India''s highest sporting honour for the year 1995-1996.

8. Shiny Wilson (Abraham) - (Track and field)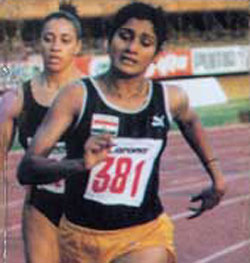 Shiny Wilson has been a National Champion in 800 metres for 14 years. Shiny Abraham Wilson (Shiny Abraham) represented India more than 75 times in international competition. She holds the added distinction of representing Asia in four World Cups. She is also perhaps the only athlete to have taken part in six Asian Track & Field Meets in a row beginning 1985 in Jakarta.
During this period she won seven gold, five silver and two bronze medals. She collected a total or 18 gold and two silver medals from the seven South Asian Federation (SAF) Meets she has competed. A veteran of four Olympics and three Asian Games, Shiny has some great moments to cherish, particularly the experience in the 1984 Los Angeles Olympic Games where she became the first woman from India to enter the semi-final of an Olympic event. And more importantly, she was part of the relay squad which set the Asian record there and again when it improved upon that mark during the World Championship in Rome in 1987.
9. Neelam Jaswant Singh (Athletics)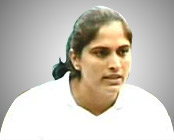 Neelam Jaswant Singh was born on January 8, 1971 in Farmana. She was an Indian discus thrower. Her best throw till date is 64.55 metres, which was achieved at the2002 Asian Games in Busan.

In the year 1998, Neelam Jaswant Singh won the bronze medal at the Bangkok Asian Games. In the Kosanova International Athlete Meet held at Almaty (Kazakhstan), she won the gold medal. In August 2000, she also won a gold medal at the ATF that took place in Jakarta. Neelam is employed with the Railway Coach Factory in Kapurthala. Recognizing her talent, the Indian Government conferred her with Arjuna Award in the year 1998.

10. Soma Biswas (Track and field)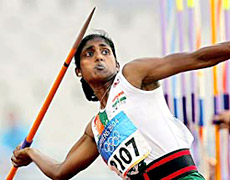 Soma Biswas was born on 16 May, 1978 in Ranaghat, West Bengal.She specializes in the heptathlon. She rose to fame by winning the silver medal in 2002 Asian Games in Busan, and another silver medal at the 2006 Asian Games in Doha. Biswas worked with Kuntal Rai and several other foreign coaches. She was one of the recipients of the prestigious Arjuna Award for her Athleticism in 2006.