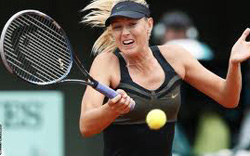 New York: 2006 Champion Maria Sharapova knocked out the No.2 seed Simona Halep in a three-set thriller to close out a blockbuster Day 1 at the US Open. Sharapova, who is into the year's final Grand Slam on a wildcard, outhit the World No.2, 6-4, 4-6, 6-3 after a marathon two hours and 44 minutes.
Sharapova after the match said, "You never really know what you're going to feel until you win that match point and you can't control what's going to go through your mind. It's all worth it. You sometimes wonder why you put in all the work. And this is exactly why. We respect each other so much and I know when we both saw the draw there was something extra for that. The hype was because of the quality of the matches we've played before. No matter what my record against her, it's always been tough."
Meanwhile, in one of the biggest upsets of 2017 US Open, Naomi Osaka scored a momentous 6-3, 6-1 upset of No.6 seed and defending champion Angelique Kerber and the first Top 10 win of her career. Osaka struck 22 winners and took just 65 minutes to complete the upset.