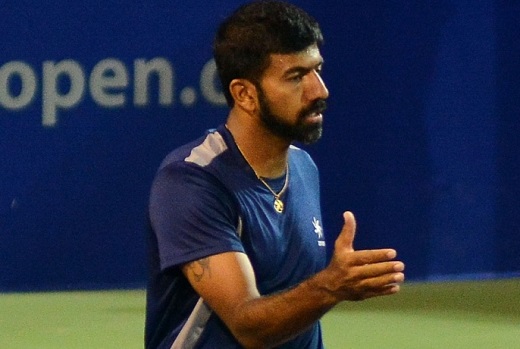 Roquebrune Cap Martin (France): Indian star Rohan Bopanna and his Uruguayan partner Pablo Cuevas defeated the Spanish team of Feliciano Lopez and Marc Lopez in a tough three-set battle to win the men's doubles title at the Monte Carlo Masters tennis tournament here on Sunday.
Bopanna and Cuevas won 6-3, 3-6, 10-4 in one hour and 14 minutes at the Monte Carlo Country Club.
This is the first title that the Indo-Uruguayan combination have won since they teamed up earlier this year.
Bopanna and Cuevas were off to a strong start, breaking their opponents' serve in the fourth game to take a 3-1 lead in the opening set.
They almost got another break in the eighth game when they stretched their opponents' serve to 30/40 before the Spaniards rallied to take the game.
Bopanna and Cuevas then held serve in the next game to take the first set.
Feliciano and Marc were much better in the second set, forcing a service break in the fourth game to open up a 3-1 lead.
Bopanna and Cuevas tried hard to make a comeback and put pressure on their opponents' serve on several occasions. But the Spanish duo bounced back to hold serve each time.
The Indo-Uruguyan duo dominated the tie-breaker right from the start, opening up a comfortable 6-0 lead before Feliciano and Marc reduced the gap to 8-4.
But Bopanna and Cuevas took the next two points to clinch the issue.