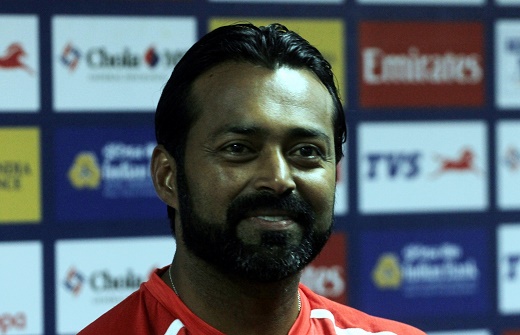 Leander Paes never turns up alone in anybody's thoughts but is always accompanied by the tricolour flying high in the background. His 8 men's doubles and 10 mixed doubles Grand Slam titles aside, Leander Paes is etched in Indian tennis fans' memory as a man who transformed into superman the moment he took on national duties. Not surprisingly, he burst onto the Indian tennis scene as Zeeshan Ali's 16-year-old partner in a Davis Cup tie against Japan in 1990. He set the court on fire with his energy and quicksilver right hand that volleyed with such deftness that at once made us remind of the greatest exponent of a volley, John McEnroe. India won that match 18-16 in the fifth set and it seemed as if the young kid could literally spill his blood on the court to make sure the national flag soared higher than ever. One should not be surprised for his name means "Lion's Heart."
That tie against Japan gave a clear indication of things to follow. India had discovered a rare talent who would go on to serve the nation for over 25 years. From forcing his captain Naresh Kumar to get him chicken biriyani in that tight fifth set to being one of the greatest doubles tennis players in the history of the game, Leander Paes has amassed 42 doubles victories in Davis Cup, level with Italy's Nicola Pietrangeli.
Limited by an average Asian physique, Leander struggled on the tour against bigger built players but once the team game began, he seemed to add a few inches and a lot of muscle to his frame to complement his big heart. The eyes that looked listless earlier suddenly turned fiery red with a burning desire to tame the very best.
Among his most memorable victories is the one he scored over the colourful Frenchman Henri Leconte in Davis Cup quarterfinals in France in the year 1993. Not many would know but Leander trained for three months in France under the tutelage of a French coach before that particular tie in order to learn to tackle the French clay which was somewhat different from the one on the Indian courts. That match was an exhibition of speed going forward and back with tremendous use of chip-and-charge that totally shook Leconte who was ranked 68th in the world to Paes's 208. Talk about punching above one's weight.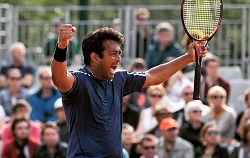 In 1995, Goran Ivanisevic, the likeable but unpredictable Croat who all thought was destined to win Wimbledon and finally did win it while creating history as the first wild card to win the tournament, faced the monster that Leander Paes became in team matches. Ivanisevic did what he was best at, serving thunderbolts down the T and creating acutest of angles on both sides of the court and soon went two sets to love up. But then Leander wouldn't be a giant he is if he did not understand the geometry of a tennis court. He moved nearly 3 feet inside of the baseline to receive Goran's serve and turned the match on its head eventually dumping world No. 7 in the fifth set, the score read 6-7, 4-6, 7-6, 6-4, 6-1 in favour of India. Paes ranked 123rd. Did I mention the Indian flag? It sure did flutter that afternoon.
Besides his heroics in Davis Cup, Leander has also won us an Olympic bronze in Atlanta in 1996. In the semi-finals, it took monk-like patience and preparedness for the all-time great Andre Agassi to be able to overcome "a bundle of hyperkinetic energy, with the tour's quickest hands" as Agassi describes Paes in his autobiography "Open." In the match for bronze, Leander beat Fernando Meligeni, again a higher ranked player at 93 whereas Paes was at 126 singles rankings. Everyone and most of all Leander expected to win it for he had beaten world number 10 Thomas Enqvist and the player ranked 26th Renzo Furlan on his way to the bronze medal encounter. After losing the first set, it was pure courage that carried Leander through to the end of the match. He himself credited "guts" for that memorable victory in July 1996, a victory that made a nation not known for his sporting prowess believe that impossible was just a word and it was not necessary to know it.
It feels sad to see a man of such stature to be treated the way he was over the Davis Cup tie against Uzbekistan. While the team captain may be strategically correct to opt for a younger team, it would have been a lot more graceful to have informed the great man about the decision to not play him earlier and saved him the blushes. Lot of dirty linen was again washed in full public view as a stunned nation watched with disbelief and disgust. As a nation grateful to Leander for giving us moments to be cherished for a lifetime, let us at least be professional in our treatment of this jewel of Indian sports while we struggle to be sensitive. Imagine an Indian with misty eyes, medal around his neck, nostrils flaring with pride and the tricolour in the background—I bet the only face that would appear would be of Leander Paes.