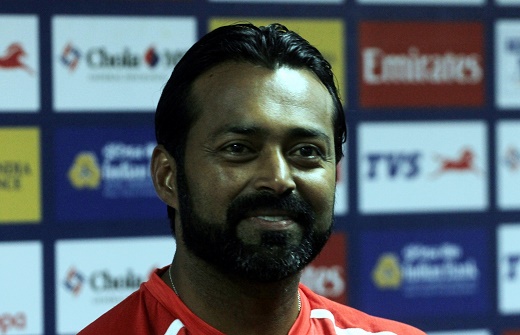 There is little room for sentiment in sport, at best there can only be sympathies. Thats what the new non-playing captain Mahesh Bhupathi sought to convey to his one-time buddy and on-court partner Leander Paes on the eve of Indias Davis Cup tie against Uzbekistan.
Paes might have expected and also prepared for the turn of events when he decided to flying across the globe to reach Bengaluru, barely two days before the tie, after winning a Challenger tournament in Mexico.
Both Bhupathi and Paes landed in the southern metropolis with their well thought-out plans. They did not have to deviate much and carried them out perfectly. Expectedly, one showed a bit of emotion and the other was without a trace of feeling.
It was clear how well the two read each other's minds in keeping with their personal relationship over the years. It made good copy, with well-punctuated lines -- and resonating sound bites with right pauses.
Bhupathi was clear in his mind that Paes had no place in his scheme of things. Paes knew that it would be nothing less than a shock of his life if picked for the doubles in a team whose philosophy is to win three singles, unlike the hitherto policy of going into a tie sure of winning the doubles and somehow look for two points from singles.
Bhupathi had a triumphant look after Ramkumar Ramanathan and Prajnesh Gunneswaran won the the opening day's singles to give him a 2-0 lead. The two overcame a spirited Uzbek challenge, never mind the health and fitness issues of Temur Isamilov and Sanjar Fayzieb.
Paes was still there at the venue to get his share of applause from the stands. Ramkumar acknowledged his contribution in motivating him for the rubber. Ram's words may have made Paes happy before he left for Houston in the early hours of Saturday to play in a Challenger there.
After the first day's results, Bhupathi said he would respond after the tie to Paes questioning the selection criteria and the bad blood between the two being a possible cause for dropping him.
Paes is naturally miffed as he was dropped for the first time after making his debut 27 years ago. What he did not seem to realise is that he is no longer the player he was and his recent record in Davis Cup doubles only confirms this. Yet, the issue could have been handled a lot better.
If anyone thought that Bhupathi would play Paes ahead of his pal Rohan Bopanna has to be an eternal optimist. The only way Paes could have played was if the team had two specialist doubles players. One wonders why the decision was left hanging till the day of the draw instead of informing Paes well in advance that he should carry on with the ATP Tour and not bother to travel all the way from Mexico for the tie.
Also, why talk of current form or the suitability of ad court and deuce court after picking him? Bhupathi has added a new element of service speed! He has three players who serve at 130 km and that automatically leaves Paes out. Is service all that tennis has? Eventually, as Paes put it, Bhupathis has the right to pick his team and he did not want him.
Bhupathi says it was tough to drop his one-time friend, but that can't be the reason to keep the decision hanging till the last minute. If he was so concerned about the inexperienced singles players, he should have picked the two top doubles players available to offset the danger of not pulling off three singles matches. Either way it was a high-risk situation.
What leaves a bad taste in the mouth is the periodic dramas the former and current players enact to show their clout or play ball with the authorities. Try recollecting one smooth transition.
In the past, there have been non-playing captains for whom a tennis racquet was more an ornamental piece. Then there were those who were made captains only to keep the players under check. Some of the stalwarts had to step down because their presence overawed both the players as well as the authorities.
Ask Ramanthan Krishnan, Naresh Kumar, Jaidip Mukerjea, Ramesh Krishnan, S.P. Misra and Anand Amritraj they will all narrate how shabbily they were treated and eased out.
The worst crisis was when the players led by Bhupathi and Somdev Devvarman put up a charter of demands. Top players, barring Paes, even boycotted the Davis Cup tie against South Korea.
The AITA agreed to a new coach, a higher share of prize money, the players' involvement in choice of venues for ties and business class airfares for all members of the squad. They even wanted S.P. Misra to go as captain, but AITA put its foot down only to give in after the players ended the boycott.
Misra took the team to World Group twice after it struggled for 23 years to get past the play-off round.
Another round of vaudiville is unfolding.