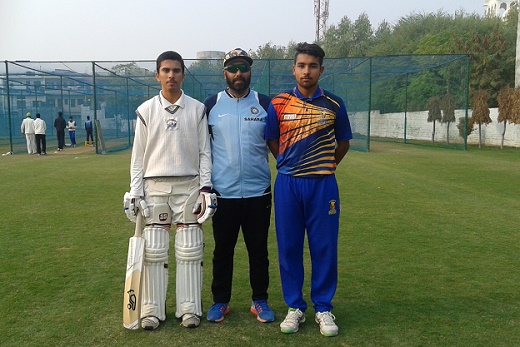 Mohali: Tinku Cricket Academy at Sarvhitkari Senior Secondary School in Sector 71 has been churning out players for the state team on regular basis and the latest to wear the state jersey from the academy are Anshul Chaudhary, Navpreet Singh and Jashanpreet Singh who played for Punjab in the Under-16 Inter-state Tournament, tasting considerable success.
Anshul played a major role in his team qualifying for the quarterfinal as he went on to score two centuries and a half century from the four games that he played, making him the second highest scorer from the North Zone.
"Our first match was against Himachal and I scored 144. The match was a draw but we had the first innings lead. In the second match against Jammu & Kashmir, I scored 50 and we won that match. We also won the third match against Delhi where I made 21 in the first innings and 103 not out in the second. The fourth wasn't that good for me. It ended in a draw. The quarterfinal will be played on January 14," said Anshul, who plays as an opener.
Navpreet, who is a fast bowler, played one match but made his mark by taking three wickets. "This is just the beginning," he said, adding that he does whatever is being taught by his coach Sukhvinder Tinku.
"We just try to implement things taught by our coach. We work hard and practice sincerely," said Anshul and Navpreet.
The coach too had some good words for his trainees. "Anshul is a very sincere guy. He does whatever is being told to him. He concentrates only on his work. Navpreet is also a good talent as a fast bowler. He is sincere and hardworking," said Tinku.