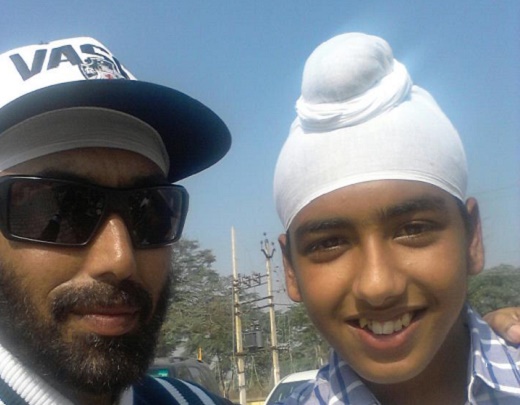 Mohali: Missing out a century on his debut in a national tournament by just six runs and that also because he ran out of partners can't be a good feeling for any player, but 18-year-old Taranpreet Singh isn't cribbing about it and has taken out the positives from his innings, saying it's just the beginning.
Taranpreet Singh (94*) along with Shubman Gill (85), played fantastic knocks to give Punjab an important 179-run lead on day two of the Cricket Tournament for U-19 Cooch Behar Trophy played at IC-Gurunanak College Ground, Chennai. However, Tamil Nadu saved the match with some patient batting in their second innings.
Talking about the match, Taranpreet said that Punjab were going for full three points. "However, Tamil Nadu showed a lot of patience in the second innings and saved the match. But we gained confidence from the manner we played in the match and would like to carry that in our next match against Tripura in Patiala from December 5," said the youngster, who is being coached by his father Sukhvinder Singh Tinku.
"It was my debut match in U-19 Cooch Behar Trophy. Though I feel bad about missing the century by just six runs, nonetheless, it was a great experience. I will take forward the positives that I gained from the match," said Taranpreet, adding that he got inspired to play cricket after watching the 2007 T 20 World Cup.
"Though my father is a renowned cricket coach, I didn't take on this game initially. I got inspired to play cricket after watching the 2007 World Cup. I was so impressed by the Indian team winning the cup under Mahedra Singh Dhoni that I also started dreaming of playing for the country. I requested my father to join his academy and from then onwards have been practicing very seriously," said Taranpreet, adding that earlier he started only as a batsman, but with time has started bowling left-arm spin.
"Whatever I am today is because of my father. He has made me whatever I am today. On field he is just my coach. I do have the advantage of my father being my coach. I can take his advice and discuss cricket even at home," said the youngster, who is pursuing his graduation at SD College, Chandigarh.
"I balance between my studies and cricket. I don't compromise on that," he said.
Talking about his son and trainee, Sukhvinder Singh Tinku said that he first noticed the spark in his son when he was eight-year-old. "He used to hit the tennis balls very hard. It impressed me and I started coaching him. Once peeved with his practice, I told him if he can't practice properly, he should just leave practicing and concentrate on his studies. He just ran away from home. We found him sitting in a corner crying. He said please don't say to me this again. I will never compromise with studies but will never leave cricket. I saw the dedication in him and started working with him seriously," said Tinku, adding that Taranpreet went on to play U-14 tournament for Punjab. "He is good in his studies as well and always gets good marks."