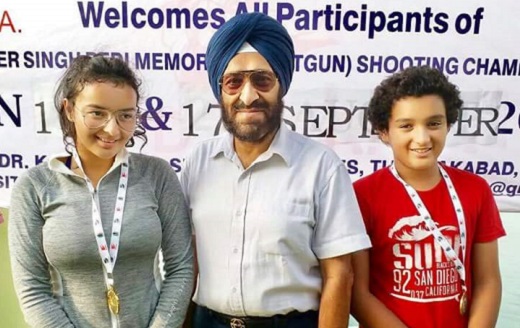 New Delhi: Famous shooter Jaspal Rana's son Yuvraj Singh Rana and daughter Devanshi Rana won gold medal in the Palinder Singh Bedi Memorial Shotgun Shooting Championship at Delhi's Dr Karni Singh Shooting Range.
The Delhi State Rifle Association organised the first mixed double trap shooting competition in the country. Mix double trap shooting has recently been included in the Olympic Games, which will be played for the first time in the Tokyo-2020 Olympics.
Yuvraj and Devanshi grabbed the gold medal at 22 points in the junior section of the competition, while Aryaman and Ritu's pair won silver medals with 20 points.
In the senior category, Kismat Chopra and Katha Kapoor scored the top position with 67 points to win the gold medal, while Subhash Rana and Naina Rana got the silver medal at the score of 48. Karnik Raj Sharma and Pooja Sharma got bronze medal at the score of 42 points.
This competition has been started in the name of Late Palinder Singh Bedi, former President of Delhi State Rifle Association and Vice President of National Rifle Association of India. On this occasion, former president of Delhi State Rifle Association, Harinder Singh Bedi, son of Palinder Singh Bedi, honored the medal winners and appreciated Delhi State Rifle Association Chairman Jaspal Rana, Secretary Rajiv Sharma, Treasurer Jaspal Singh Marwah and other office bearers for the successful event.