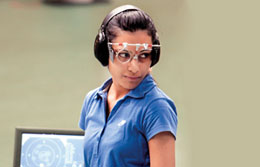 Plzen (Czech Republic): Heena Sidhu settled for the bronze medal in the Womens 10m Air Pistol category of the 48th Grand Prix of Liberation Plzen Shooting championships here on Sunday.
Heena shot 218.8 in the eight-woman final to claim bronze, in an event won by Rio Olympic gold and bronze medallist Anna Korakaki of Greece.
Germany's rising women's pistol star 21-year old Michelle Skeries, competing in her rookie senior year and having already won a World Cup bronze in New Delhi this year, came second with a finals score of 237.8.
India's Shri Nivetha Paramanantham also qualified for the finals but finished fourth behind Heena with a finals score of 198.7.
Among other Olympic events, Indians made it to four more finals with Pooja Ghatkar finishing fourth in Women's 10m Air Rifle, Gurpreet Singh finishing 6th in the Men's 25m Rapid Fire Pistol which was won eventually by Germany's Olympic champion Christian Reitz and Chain Singh finishing seventh in the Men's 50m Rifle 3 Positions final.
Former Olympic bronze medallist Gagan Narang, who competed for the first time for his shooting academy Gun for Glory also finished fourth in the Men's 50m Rifle Prone event.
There were also impressive performances by the Indian men's 25m Standard Pistol team, which swept the medals in the event, with Neeraj Kumar winning Gold, Harpreet Singh Silver and Deepak Sharma the bronze medal.
Veteran women's Rifle shooter Tejaswini Sawant also won silver in the 50m Rifle Prone event while Pemba Tamang won bronze in the Men's 25m Centre Fire Pistol.
India thus returned with a haul of one gold, two silver and four bronze medals and with the second stage of the International Shooting Sport Federation (ISSF) World Cup for Rifle and Pistol slated for later this month in Munich, Germany, this performance should do the squad a world of good.