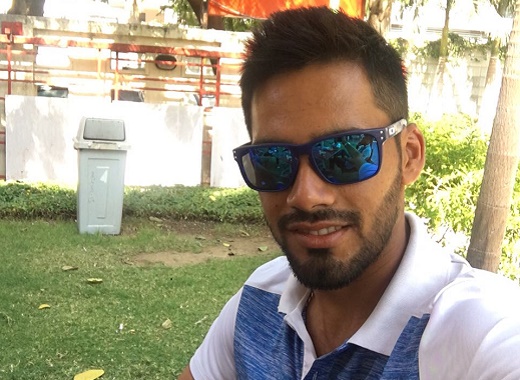 The Himachal cricketer finished the current Ranji season with 978 runs
Chandigarh: Though Himachal Pradesh failed to qualify for the Ranji Trophy Elite Group, it turned out to be a stupendous season for young Prashant Chopra as he finished the season with 978 runs, including a double ton, two centuries and four half centuries. However, the youngster isn't happy of the fact that his team failed to qualify for the quarters.
Terming it to be a mixed feeling, Prashant said that though personally it turned out to be a good season for him, it could have been better had Himachal moved into the elite group. "It has been a mixed feeling for me. Personally it proved to be a very good season. But I am not happy as the team could not make it to the elite group. Had the team qualified for the quarters, I would also have got more chances to score more runs," said the 24-year-old.
Also Read: Prashant Chopra has all the attributes to become a good Test as well as limited over opening batsman
Not losing sleep over his prospect of getting into the Indian Premier League (IPL) fold, Chopra said it's not in his hand. "I do want to get a call for any of the IPL teams, but I am not losing sleep over it as it's not in my hand. The competition for the vacant IPL slots is tough and I know that very well. My duty is to perform and I am doing that consistently. Maybe my performance in this season will help me in getting a call for the Deleep and Irani trophies. Even if I get that opportunity it would be a good achievement," said the youngster, adding that he has already started practising for the upcoming Ranji T20s.
"I am practising for the Ranji T20s. I will try to perform well in that as well as it will also increase my confidence for the next season. I have around a month now and I will be working on my shortcomings, especially playing the short pitched deliveries. I have started practising with the wet tennis balls. I am working on my bowling as well," said Chopra.
On being asked to rate his best innings this season, Chopra said that his 194 against Goa was better than his 237 against Haryana as he played effortlessly without any discomfort of facing the ball. "Till now that is the best innings of my Ranji Trophy career. It's because of the fact that I batted with ease. I was hitting the ball effortlessly. I could feel every ball that I was hitting and I was hitting them whenever and wherever I wanted to. I had more than hundred strike rate. At no point I felt that I was at discomfort of facing the ball. I was finding the gaps with ease," said the Himachal player.