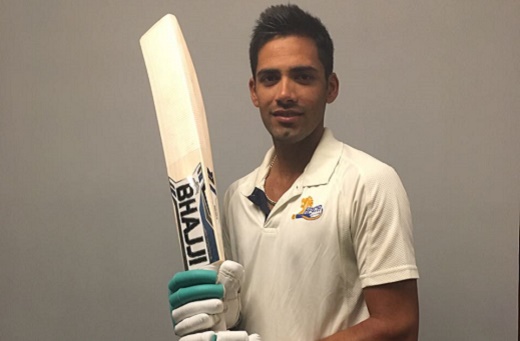 Prashant Chopra seems to be in form of his life, scores 194 against Goa in Ranji Trophy
Chandigarh: Prashant Chopra seems to be in form of his life as after scoring a double ton (237) against Haryana last week, he nearly missed yet another double century and got out at 194 in the Ranji Trophy match against Goa in Mumbai on Friday. And the beauty of his innings was that he scored his runs at a strike rate of over 114.
Rating his innings even better than the double ton he scored last week, Chopra said he played effortlessly without any discomfort of facing the ball. "Till now this is the best innings of my Ranji Trophy career. It's because of the fact that I batted with ease. I was hitting the ball effortlessly. I could feel every ball that I was hitting and I was hitting them whenever and wherever I wanted to. I had more than hundred strike rate. At no point I felt that I was at discomfort of facing the ball. I was finding the gaps with ease," said the Himachal player.
Also Read: Prashant Chopra has all the attributes to become a good Test as well as limited over opening batsman
Chopra along with Sumeet Verma (160) took Himachal to 528 and have given their team a realistic chance to walk away with at least three points in their clash against Goa. Goa were 99 for 2 at stumps, still trailing by 49 runs.
"We are hoping for the best tomorrow. If the bowlers bowl in the right areas and take 1-2 wickets we can run out their tail. The ball is spinning now," said Chopra, adding that after the match they would be heading home.
"I will rest for a couple of days and start practising again for the Ranji one-dayers," he said.
Speaking about his performance in this season so far, Chopra said, "It has been good so far. I could have converted few more into big ones. The knock (117) against Andhra was also quite satisfying. It was a patient knock as our top order had collapsed in that game early and I had to be there till we got to a decent target. I have scored more than 900 runs this season. So overall it's good for me," said Chopra.
He said that though he would like to get a chance to represent any of the IPL franchisee, he wasn't thinking much about that as of now. "The only thing that I need to do now is to score more and more. So definitely the IPL chance will come my way one day," he said, adding that he was also working on his bowling.
"Yes I am working quite a lot on my bowling in the nets. I am bowling regularly for one hour during every net session so that I get consistent with my line and length," he said.