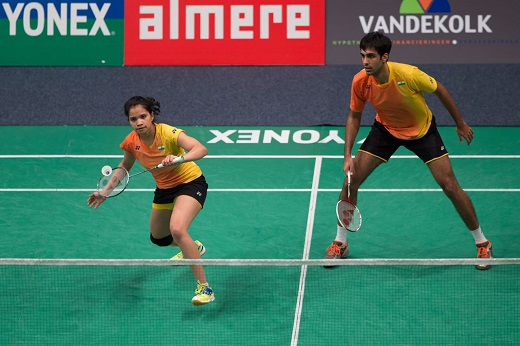 Chandigarh: Though Pranaav Jerry Chopra didn't get a chance to play for his team Bengaluru Blasters in the Premier Badminton League, the youngster is happy of the fact that he got a good experience to be in the same team as the former top ranked Korean doubles players Ko Sung Hyun and Yoo Yeon Seong, and World No. 4 and Rio Olympic bronze medallist Viktor Axelsen.
"It was a pleasure interacting with the badminton superstars. It proved to be a good learning experience. The Koreans were obviously not very comfortable communicating in English but still mixed up with us very well. I got to learn a lot with quite a lot of things related to the doubles events and also could learn few points watching them play and by understanding there view towards doubles," said Pranaav, adding that it was also great to have Viktor Axelsen in the team.
"He is a really fun loving guy and mixed up well with everyone. Also there were quite a few scientific things which we could learn in these two weeks from Viktor's physio as he was also the physio for our team," said the Ludhiana shuttler, adding that though he didn't get a chance to play for the team, but in overall had a wonderful time and really enjoyed being a part of it.
Speaking about his goals in 2017, he said that for 2017, their coach (his and Sikki Reddy) has set goals for them to play in the Superseries events and have asked them to aim for quarterfinals to start with. "Basically he wants us to play at the highest level now and compete with the top pairs in the world and try to win against them. Definitely it is not easy and there is a lot of hard work required for it which we are totally ready to do," said Pranaav, adding that he and Sikki Reddy need to work on their consistency in the game which can help them win big matches.
"The matches at the top most level are not easy. So the one who is more consistent, confident and good on that particular day will come out as winners," said the youngster.