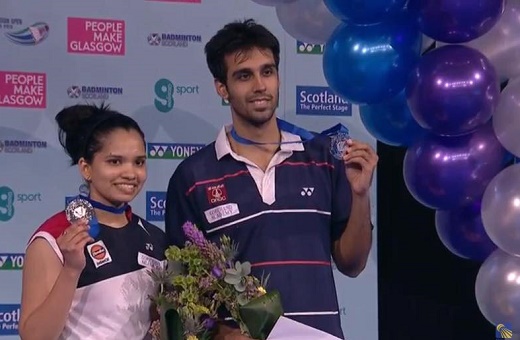 Chandigarh: Though India's Pranaav Jerry Chopra and Reddy N Sikki lost to Malaysia's Goh Soon Huat and Shevon Jemie Lai 13-21, 21-18, 21-16 in the mixed doubles final of Scottish Open in Glasgow last Sunday, their runners-up finish helped them in catapulting to 18th position, their best so far, in the Badminton World Federation (BWF) World Ranking in mixed doubles category. Terming it to be an amazing feeling, Pranaav told Indian Sports News that they were aiming to just go higher and higher. Excerpts from the interview:
Q. You and Sikki Reddy lost a close fight in the Scottish Open final. What really made the difference in Malaysia's Goh Soon Huat and Shevon Jemie Lai's favour?
Pranaav Chopra: In the finals we were leading and also were in good control of the game. I think at the end it was our mistake to not make a strategy before starting a point and we just kept on playing which we usually don't do. We would usually talk to each other and decide what are we going to do in that particular point, but we somehow didn't do that.
Also Read: On a shuttle to success: Pranaav Chopra is the next 'big thing' in badminton doubles event
Q. How has your journey been in the last 3-4 months?
Pranaav Chopra: The last four months have been really great for us with two gold, one silver and one bronze in four Grand Prix tournaments that we have played. So as a whole, it has been quite satisfying. I think the best moment I would say was getting a start which was by winning the Brazil GP, which gave us the confidence and that showed in the rest of the tournaments as well.
Q. You have achieved your career-best (18th) in mixed doubles rankings. How is the feeling and how do you plan to improve it on consistent basis?
Pranaav Chopra: We are getting higher in the ranking with every tournament we play and that is just an amazing feeling as it has been very long since anyone has performed well after Jwala Gutta and V Diju in mixed doubles for India. We are aiming to just go higher and higher.
Q. What are your plans for the future?
Pranaav Chopra: Our plan is to keep training together to get the consistency in the game and get our coordination even stronger. We have really grown as a pair in terms of coordination with each other on court and we keep finding ways to get it better and better with each training session we play together.
Q. What are the next tournaments you are going to play?
Pranaav Chopra: We with our coach have planned to play in the Grand Prix Gold and Super Series events from next year starting from January and go for winning bigger matches and get into the circuit of the top level players.