Pranaav said that 25th ranking meant a lot to them as they had moved from over 100 spot to 25th in just one year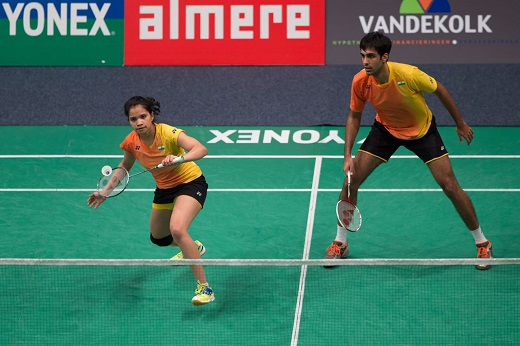 Chandigarh: In what can be called as a remarkable achievement, Indian mixed doubles pair of Pranaav Jerry Chopra and Sikki N Reddy has catapulted into the top 25 rankings after the list for the week was released by the Badminton World Federation (BWF) on Thursday.
Ecstatic about the newly achieved feat, Pranaav said to Indian Sports News that the rankings meant a lot to them as they had moved from over 100 spot to 25th in just one year.
"The last one year has been tremendous for me in both my events as we have definitely had some great performances like in Syed Modi GP Gold Tournament me and Akshay were able to win against then World no. 10, 8 and 7 ranked pairs. I would call it our best achievement till now as we had never won against them and beating them all in a single tournament was something very big for us. I am sure before that winning Bangladesh Open and then especially able to play in the PBL were my biggest booster to confidence which helped me a lot. And now in mixed doubles, winning two Grand Prix tournaments and reaching one semis after I came back from a shoulder injury for which I had to rest for three months in May, June and July, definitely has turned it to be a great year for me," said Pranaav, who is from Ludhiana.
Attributing his success to his coaches and parents, Pranaav said, "My success is definitely due to my doubles coaches, Gopichand Sir, the support staff here in our academy and my parents. In doubles coaches, we have our main coach Tan Kim Her (who is a Malaysian). He mainly takes care of our training. Then we have Vijaydeep Singh and Arun Vishnu, who also helped us a lot to prepare for our tournaments."
Talking about his targets, the Ludhiana youngster who trains at Gopichand Badminton Academy in Hyderabad, said, "Obviously we do have big ones in Commonwealth Games and Olympics but for that we have also made smaller targets which are going to help us reach there. So our plan from next year is to play in bigger events like premier superseries and superseries tournaments and focus on winning matches and winning against top ranked pairs in the world and break into Top 20 in the rankings."
"Next tournaments which we are playing are Scottish Open and Welsh Open in November," said the shuttler, informing that his main focus would be mixed doubles as his coaches think that was the best for him. "No one better than them can understand that," said Pranaav.
In all praise for Gopichand, Pranaav said, "Gopi sir has helped us in many ways, by making this academy and providing us the facilities which any sportsperson would need to reach the top level. Also his experience and knowledge of the game and also other things is very vast. Whenever we get a chance we talk to him about all of it and that helps us a lot."
Thanking his parents for believing in him, Pranaav said, "I don't think I could have got better parents than them. I really thank god to let me be a part of such a family who has supported me in every aspect of my life and I seriously don't believe that I would have made it anywhere near where I am today without them. Though I do miss them here but I know wherever I may be I have got their support and that is what is making me move forward."