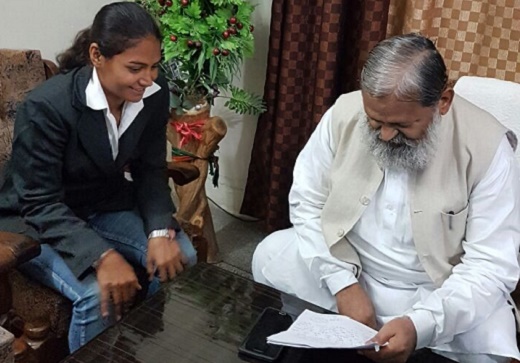 Chandigarh: Aggrieved by the treatment meted out to players like her who have brought laurels to the country at all possible stages by her state government, despite the tall promises made by the Haryana Sports Minister during the Rio Olympics, hockey player Poonam Rani Malik feels that Indian athletes are being treated shabbily by the Indian government.
Launching scathing attacks on the Haryana government for not treating sportspersons with due respect, she said that despite the claims made by Haryana Sports Minster of providing good jobs in the state to Haryana players like her who have won laurels for the country at every possible stage, nothing has been done in this regards in the last four months.
"During the Rio Olympics, Haryana Sports Minster Anil Vij met us and assured us of good jobs in the Harayan government. I had submitted my application a long time back. But nothing has been done in this regard," said Poonam Rani, adding that she even met the Sports Minster a couple of days back.
"He again assured me of job but said that the applications from the players have been sent to the Chief Minister and a committee has been formed to look into it. Things will only move after the approval of the committee. But it hasn't happened in so many months," said the aggrieved player who works as commercial clerk in Indian Railways.
"I was getting Rs 15,000 two months ago which has increased now. However, it is still not sufficient for me to buy good quality sports shoes," Poonam said, adding that she definitely was eligible for better job in the sports quota.
"There are many players who are just Olympians like me or have won medals in Asian Games and other events and are Deputy Superintendent of Police (DSP) in the Haryana government. I also have medals in Asian Games and other international tournaments and have represented the country in Rio Olympics. So I should be considered for the post of DSP by my state government," said the Indian women hockey forward, adding that even Punjab government appointed nine sportspersons, including six hockey players as DSP.
"The government should recognize the contribution of athletes and should award the sportspersons in all manners possible," said the Umra girl.