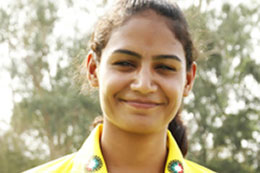 Chandigarh: Poonam Rani Malik, one of the key members of the Indian women hockey team that came back from the Australia tour after putting in a good performance there, said the exposure they got playing the higher ranked team will help them a lot in improving their own game.
"It had been good training matches for us. We managed to win one of the three matches that we played against them. It was a good experience. They have a young team and are ranked fourth. We are ranked 12th. So playing against them was a challenge. But by winning a game, we proved that ranking does not matter if you play to your potential," said Poonam, who was in all praise for the Australians.
"They have better speed and high fitness level. We have to learn these things from them. Their conversion rate was also quite high. So in all it was a great learning experience," said the Indian forward, adding that she was quite satisfied with her performance in the three-match series.
Poonam Rani Malik: Umra's Chak De girl!
Poonam is also of the view that such tours are going to improve their game a lot. "Such exposure tour is the need of the hour. It's good that Hockey India has been doing its bit to arrange such tours. And see the results. We have performed well under the foreigner coach and have won more medals. We won the Asian Champions Trophy and the Asia Cup. So such tours should be arranged on a consistent basis," she said, hoping that with Dr Narendra Batra been as President of World Hockey Federation (FIH), it would do a lot of good to Indian hockey.
"We hope of getting more international tournaments in Indian itself. Now major tournaments can happen in our own country and we can get the right kind of exposure here itself," said Poonam.