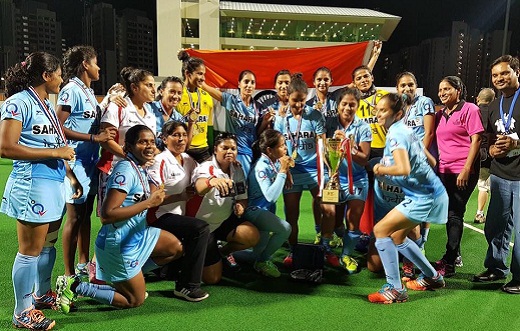 New Delhi: Poonam Rani Malik has been an integral part of the Indian women hockey team ever since she made her debut as a 15-year-old in a Four-Nation Tournament in Netherlands in 2008. She once again proved her mettle in the Asian Champions Trophy, which India won for the first time by beating China recently. Poonam played an important role throughout the tournament and finished with two goals to her credit.
Ecstatic about India's maiden win at the Asian Champions Trophy, the Umra girl said that it was a moment of pride for the whole country. "All the team members are very happy as we won the tournament for the very first time. I am satisfied with my performance as apart from assisting other players in scoring goals, I finished up scoring two goals myself – one against Malaysia and one against China. Overall, it was a fantastic team effort," said Poonam, adding that the team has grown in stature in the last two-three years.
"As a team we have grown in confidence over a period of time. Qualifying for the Rio Olympics was a big boost," said Poonam, adding that it was all due to the consistent effort from Hockey India and its president Dr Narendra Batra.
"The steps taken by Hockey India are commendable. It has motivated us to do well. We are getting foreign tour exposure, the facilities for players have increased and we are being rewarded for our good performances. Hockey India has even announced Rs 2 lakh cash award for each player who was part of Asian Champions Trophy. So it's going good for women hockey at present," said Poonam, adding that on November 12, the team would be leaving for Australia for the three-match Test series.
"At present we are in Delhi in the camp," informed Poonam.