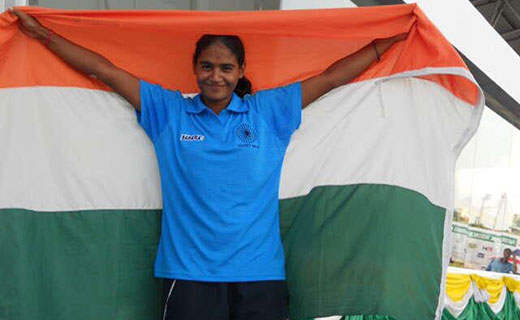 She had started showing the glimpses of her class, consistency and abilities soon after she made her debut for India senior team as a 15-year-old in a Four-Nation Tournament in Netherlands in 2008, but it was in the 2013 Junior World Cup in Germany that Poonam Rani Malik captured the imagination of sporting public when she helped India finish historic third, earning them a bronze medal.
The girl from Umra village in Hisar district, who has now represented India in around 160 matches in the last over eight years, is considered to be one of the most experienced and dependable players in the Indian side. A perfect symphony of skill, class and consistency under adversity, Poonam has scripted many a great escape for the Indian team on number of occasions.
Initially being inspired by her village teams (boys and girls) who used to practice on the government school ground in front her house, her resolve to wield the hockey stick on the synthetic turf became more strong after watching the inspiring success of the Indian eves who won the gold medal at the 2002 Commonwealth Games in Manchester, England.
"Initially my interest for the hockey began while watching the boys and girls play hockey in ground infront of my house. Later, the success of Indian girls in Manchester made my resolve stronger and I started nurturing the dream of playing for the nation and I started practicing hard to achieve my goal," said Poonam, who is also known as "Phirki" for her speed and control over the ball.

Primarily a forward, Poonam represents the Railways at the national level. "Railways have been of great help to players like me," says the Hisar girl, adding that she has got immense support from the Haryana government as well.

"In my initial days I practiced under coach Jagjit Malik. Later, I shifted to Sports Authority of India academy in Hisar. There I practiced under coach Ajad Singh Malik. In 2007 I played my first international match in Indian junior team. I was the captain of India Under-18 and Under-21 team in 2011," informs Poonam, who is also fondly called "Mini" by people close to her.

Being part of the Indian team which participated in the Olympics after a gap of 36 years, Poonam terms it to be an exhilarating experience. "It was a wonderful experience being a part of the Indian team that qualified for Olympics after a gap of 36 years. It was a quite a learning experience. For me it was a dream come true moment. The competition there was tough. But then we enjoyed every moment of it," said Poonam, who has been named in the squad for the Asian Champions Trophy to be held October 29 and November 5.

The 23-year-old, who is already a two-time World Cupper, having represented India at the 2010 and 2014 editions of the World Cup, says she is a great fan of Australian great Jamie Dwyer. "I am a great fan of Jamie Dwyer. He is such a fantastic player. Among women players, I loved to see Natascha Keller of Germany," says the Umra girl, who has represented India at the 2010 Asian Games in New Delhi, and the 2014 Commonwealth Games in Glasgow where the team had won the bronze medal.

One of the most experienced players in the Indian team, Poonam also has over 30 international goals to her credit.