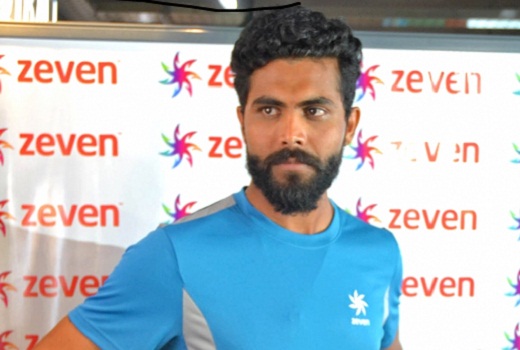 Bangalore: Zeven, India's very own performance sportswear brand, signs cricketer Ravindra Jadeja as one of its brand ambassadors. He will join a team of world class and upcoming athletes who wear and promote Zeven. The effervescent cricketer who recently celebrated his 28th birthday, steadily rose to fame from his domestic cricket days to his current position as an all-rounder in the Indian team, inspiring millions of youth along the way. Jadeja is hailed as one of the best fielders in the Indian team and a live-wire on the pitch.
Zeven was conceptualized to bring a revolution in sports in India by putting sports back into the DNA of the masses, irrespective of their gender, age or any other factor. This partnership with Jadeja is one step towards inspiring millions of youth who follow cricket and other sports on screen, to come out and play. Zeven is one of the first Indian multi-sports brands to design and manufacture apparel and footwear exclusively for Indian terrain, body type and weather conditions.
Commenting on the new partnership, Ravindra Jadeja said, "I am excited to be associated with Zeven, one of the first Indian sportswear brands to make a wave in the international arena for its world-class design and quality. I strongly relate with the brand's philosophy to make sport an active part of every Indian's life and look forward to a long and fruitful association with Zeven."
"We are proud to announce our association with Ravindra Jadeja, who enjoys a tremendous fan following among the aspiring cricketers and sports enthusiasts. A player with exceptional quality and experience, we are certain Jadeja will help us in our mission of catalyzing a billion Indians to get out and play a sport. As a brand, we are confident that Jadeja's credibility and image will help the brand in creating a longstanding association with the masses" said Mahesh Bhupathi - Director – Zeven.
The company recently launched their first retail outlet at Brigade Road in Bangalore earlier this month.