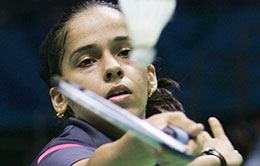 New Delhi: Hyundai Motor India Ltd. (HMIL), the country's largest passenger car exporter and second largest car manufacturer on Thursday honoured Saina Nehwal by handing-over the 1st Anniversary Edition of Indian Car of The year - Creta. Celebrating the grand success of the most awarded SUV of the year - CRETA, Hyundai is proud to present the 1st Anniversary Edition to the Badminton Icon of India - Saina Nehwal, for celebrating her win in Australian Open Championship.
Saina Nehwal (26) is amongst the most decorated athletes in the country having won Arjuna Award, Rajiv Gandhi Khel Ratna, Padam Shri and Padam Bhushan in 2016 besides winning an Olympic Bronze at the 2012 London Olympiad for India.

Commenting on occasion, Y K Koo, Managing Director and CEO, Hyundai Motor India Ltd. said, "Saina is Badminton Icon of India. Her consistent performance has elevated this sport's enthusiasm to a great level of admiration among badminton lovers globally. Creta - the Perfect SUV and the Indian Car of the Year 2016, is an ICON in SUV segment. Creta with its superior performance and style along with strong body structure is a Perfect SUV for global customers. "

On the occasion, Saina Nehwal said, "It is an honor and wonderful experience for me and I would like to thank Hyundai for honoring me with the 1st Anniversary Edition of Creta. It's motivation for every athlete to receive the recognition for his/her hard-work and achievements. I am quite confident and will give my best efforts in upcoming tournaments to bring pride to my nation and fellow countrymen."

Hyundai has always connected with sports enthusiasts by its presence in global sporting activities like FIFA World Cup and UEFA championship, Golf, World Rally Championship across world markets and earlier ICC cricket championship.