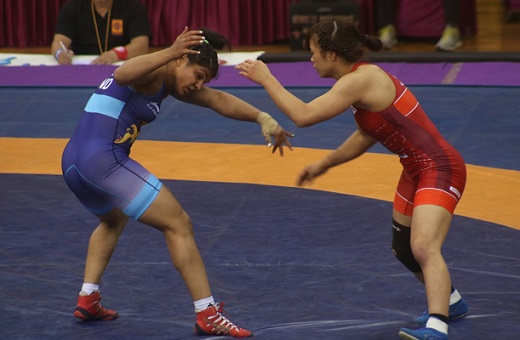 New Delhi: Rio Olympic bronze medallist Sakshi Malik settled for the silver losing to Risako Kawai of Japan in the women's 60kg category, while Vinesh Phogat (55kg) also fell short in the final at the Asian Wrestling Championships here on Friday.
In the 69kg category, the new girl on the block Divya Kakran also settled for the silver medal after going to Japan's Sara Dosho 0-8.
Many hopes of a gold were pinned on Sakshi. But the Indian came a cropper in the final as Rio Olympics gold medallist Kawai hardly broke sweat as she outplayed Sakshi 10-0.
Competing for the first time in women's 60kg category after moving up the weight division from 58kg, Sakshi never looked in contention. Right from the start, the Japanese player took a solid 4-0 lead by throwing the Indian to the edge of the mat and then a few seconds later she made it 10-0 to claim the gold medal.
"It was a bad day, but I hope I will do better in future tournaments," Sakshi said after the match.
The bronze medal went to Avaulum Kassvmova of Kazakhistan, who defeated Uzbekistan's Nabira Esenbaeva 13-3.
Vinesh Phogat, the third of the four Phogat sisters, seemed struggling on the mat and lost her gold medal match to Japan's Nanjo Sae 4-8.
It was a poor start by Vinesh as at one point she was trailing 0-4. But in the last few minutes, the Indian grappler, who was competing in her first international competition post a career-threatening knee injury, tried to bounce back and she was also successful as the 22-year-old snatched four points.
But with the clock ticking, Vinesh failed to step up to the occasion and her opponent Sae proved superior in the dying minutes to clinch the gold medal.
"It is difficult to come back to the mat after having such a serious injury. But it was good experience. I am happy with the silver as I know how difficult it is to stand on the podium after an injury," Vinesh said.
In the 69kg category, Divya lost to Sara Dosho 0-8. It was a fine start by the promising Indian grappler but after a few seconds Divya gave away two points and Doshu made it 4-0 within a minute.
The next three minutes saw numerous attacks by Divya. The Indian grappler tried many leg attacks but she failed. Witnessing that, the Japanese player started counter-attacks and as a result Dosho bagged two more points to make it 6-0 in first four minutes.
Soon the Japanese took two more points when she pinned down Divya to clinch the gold.
In women's 48kg category, Ritu Phogat settled for the bronze medal in the 48kg category. Ritu got a walkover by China's Yanan Sun, who pulled out of the match owing to an injury.