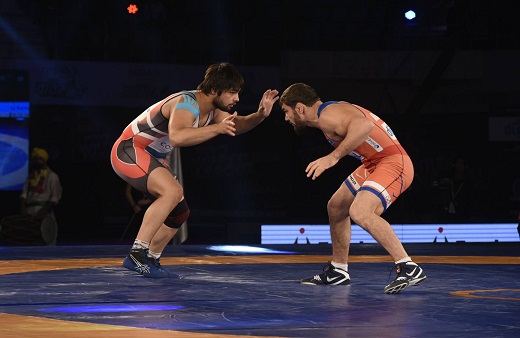 New Delhi: Haryana Hammers continued their winning run and clinched the top spot by overpowering Punjab Royals 5-2 in a Pro Wrestling League (PWL) contest at the KD Jadhav Indoor Stadium here on Monday.
It was the last tie in the league stage of this year's PWL and Haryana -- the runners-up of last year's inaugural edition -- ended up with 10 points having won all their five matches.
Being the top placed side after the league stage, Haryana will take on fourth placed Jaipur Ninja's in the first semi-final on Tuesday.
Punjab will face Mumbai Maharathi in the other semi-final on Wednesday.
Punjab, Mumbai and Jaipur ended the league stage with six points each. But Punjab and Mumbai finished above Jaipur as their wrestlers have more number of bouts.
Haryana captain Abdusalam Gadisov won the toss and decided to block the women's 75 kilogram category while Punjab skipper Vladimir Khinchegashvili blocked the men's 74kg division.
Read more: Delhi Sultans beat UP Dangal in inconsequential PWL tie
Haryana's Sandeep Tomar kicked off the tie in spectacular fashion, stunning reigning Olympic and European champion Vladimir 3-1 in the men's 57kg category.
The bout was off to a slow start with Vladimir taking only a single point in the first round thanks to the passivity rule.
The contest burst into life just before the five-minute mark when the passivity rule was invoked against the Georgian star.
Tomar fought off the desperate attacks of the 2015 world champion over the next 30 seconds to draw level.
The Indian then executed a takedown in the dying seconds to complete the biggest upset of the tournament so far.
Gadisov then registered a comfortable 5-0 win over Krishan Kumar of Punjab in the men's 97kg division to hand Haryana a 2-0 lead.
Haryana coasted to a formidable 2-1 lead when Indu Chaudhary beat Punjab's Nirmala Devi 3-0 in the women's 48kg bout.
Ilias Bekbulatov reduced the deficit for Punjab with an 11-1 victory over Rajneesh of Haryana in the men's 65kg category.
The Russian opened up a 5-0 lead within the first couple of minutes and never looked back.
The faint hope of a comeback by Punjab which Ilias' victory may have generated was quickly squashed when reigning world and European champion Magomed Kurbanaliev outclassed Pankaj Rana by technical superiority.
The Russian star scored points at will to build up a massive 16-0 lead forcing the contest to be called off.
With an unassailable 4-1 lead in the bag, Haryana underlined their diminance when Rio Olympics bronze medallist Marwa Amri of Tunisia defeated Punjab's Manju Kumari by technical superiority in the women's 58kg section.
Odunayo Folasade Adekuoroye (women's 53kg) of Punjab defeated Haryana's Sofia Mattson 6-1 in the inconsequential seventh and final bout.