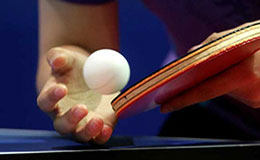 Dharamshala: The UTT 81st Cadet and Sub-Junior National Table Tennis Championships which get underway at Indoor Stadium here tomorrow marks the beginning of the first of three Nationals in TTFI's calendar of events.
They are not only considered a stepping stone for the aspiring paddlers, but also provide them with the opportunity to represent their states as the best among equals. But the greenhorn that has made it to the state squads will have to utilize the chance and convert it into medals, particularly the Cadet players, who are in their first year of a grand exposure.
And for the Sub-Juniors, it's time to redeem and cement their place, having moved to the next level with some fine ground work in previous years. Their consistency at state level may have earned them a place in squads, but in the face of stiff competition from every participating state, only the best survive to reach the podium.
Of course, the Cadet events have been a tricky affair because there is always a struggle to cobble a team together. Hence, striking a balance is very important but no state can boast of such a luxury. West Bengal Cadet boys and girls, having claimed both titles in the last edition, have deservingly made it to the top of group A ,but they have a better girls' squad than that of boys.
The group B topper, Tamil Nadu also face a similar problem with one strong player in P.B. Abhinand but it cannot be said of the rest of the team members. Also one cannot discount the chance of PSPB Academy players who have started making waves once again.
In other words, the scene is more or less the same in most of the group toppers without exception and that gives every 'strong' on paper the chance to win the title. In comparison, Tamil Nadu girls are better than the rest and they seem to have an edge over the others, thanks to Sharvani Nagam, who claimed the Central Zone title after being in three finals.
Similarly, the West Bengal team will rely on Diya Bramhachary, who with a few titles this season in her kitty, and support coming from Nandini Saha and Rupsa Ghoshal. But the surprise element has always been Maharashtra who created history a couple of seasons ago, winning three out of four titles.
However, the situation is tailor-made for Tamil Nadu as Preyesh Raj Suresh can carry their entire medal burden on his shoulders. The left-hander claimed three out of five singles titles in the just-concluded National Ranking championships. But it is foolhardy to bank on him alone and Tharun Shanmugam would be expected to pitch in. Yet, Maharashtra and Delhi can be the dark horses with strong performers in their line-ups to cause a stir or two.
But the best bet in Sub-Junior Girls is West Bengal, followed by Tamil Nadu and finally Delhi who have players of the calibre that can turn the tables on their rivals if things go according to plan. In the Sub-Junior category, the problem crops up in finding a winning doubles combination. This neutralizes the effect of some good singles players who, with all their experience, have to bear the brunt.
As for entries, there are 32 squads each in Sub-Junior Boys and Girls while 31 in Cadet Boys and 30 in Cadet Girls. But apart from team superiority which will come to the fore in the first three days, the last four days of the nationals will witness paddlers vying with one another to win individual glory and prize money, nearly worth Rs. 3 lakh. Besides the rewards, it is worth 10 gold medals.
According to Competition Manager Ganeshan Neelakanta Iyer, 16 Stag Americas' tables will be employed for the seven-day championships. However, both GKI (Cadets) and DHS (Sub-Junior) balls will be used for the competitions. Veteran A.S. Kler takes the referee's chair with Mangesh Mopker and Atul Dubey as his deputies. They will have the services of more than 50 Blue Badge, international and national umpires.
The championships, organized by the Himachal Pradesh Table Tennis Association, will be inaugurated by Anurag Thakur, HPTTA president and Minister of State for Finance and Corporate Affairs, at 9 a.m. tomorrow.