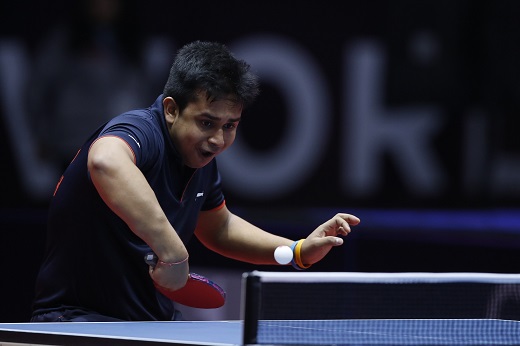 Bhavnagar: Haryana reigned supreme as Soumyajit Ghosh, showing intent and purpose, claimed his first title in three years, while Sutirtha Mukherjee, also her first this season, in the UTT National Ranking (Central Zone) Table Tennis Championships at the SAG Sports Complex here today.
In all-Haryana men singles final, Soumyajit defeated Jeet Chandra 4-1 and Sutirtha laboured a 4-3 win against West Bengal's Prapti Sen in women singles title match.
With bigger seeds out of reckoning, things became rather easy for Soumyajit but had to cross the Jeet hurdle. Fortunately for the former national champion, his rival suffered a side back strain with Soumyajit leading 2-0. Yet, the youngster managed to take a game off him before being subdued.
Soumyajit had reached the final of the 2017 Senior Nationals at Ranchi, held in January 2018. Before that, he had made a token appearance in one national ranking event in 2017 without making any impression.
If Jeet was in sublime form, Soumyajit was definitely returning to his old self with consistency. It was very much visible throughout when the two deservingly made it to the final, especially Soumyajit, who has been trying to pick up the thread from where he had left it off.
The PSPB lad, Birdie Boro, who had a roller-coaster ride until the semis found his nemesis in a rampaging Jeet who just allowed his rival the first-game liberty. After that it was Jeet and the PSPB paddler (1-4) slowly faded away. Soumyajit, growing in confidence with every match, beat the tricky Sushmit Sriram 4-1. After winning the first game on his third game-point, the Haryana player dropped the second. But soon he seized the moments to slam the door on his Tamil Nadu opponent.
Sutirtha, trailing 1-2, proved a better player in the final when a tired Prapti—she is in Youth final as well—could not rise to the occasion in the fourth, just about managing a couple of points. Even though she came back in the next, she had lost her tempo which allowed the Haryana woman claw her way back. In a neck-and-neck decider she was able to stop the West Bengal girl two points short of the target to log her first full points.
However, in the semi-finals, Sutirtha managed to drag the issue to the decider and snatch victory from the jaws of defeat from a spirited Anusha Kutumbale of Madhya Pradesh. Leading 3-1, she allowed the MP girl come too close for her comfort, allowing the latter level 3-3. After taking the next game, the top-seed had the upper hand in the decider but let Anusha go 10-8 up.
At deuce, Sutirtha's confidence returned when Anusha, with the serve on, failed to convert and Sutirtha ended her ordeal by clinching the winner soon after. And for the second-seed Ayhika Mukherjee the curtain came down when she went down tamely to promising junior Prapti Sen, who stroked her way using the flanks cleverly to outwit her senior opponent in straight games.
Jeet, Anusha win gold
In Youth Boys final, brushing aside his troubled back, Jeet blanked out Deepit R. Patil of Maharashtra 4-0 to lift the trophy and the Youth Girls crown went the way of Anusha Kutumbale of Madhya Pradesh who downed her West Bengal opponent, Prapti Sen, also by the same margin.
Jeet was had the first two games rather easy but when he found it difficult when his back pain increased in the third and fourth. He was unable to receive or return on his backhand and Deepit took advantage in both extended games before Jeet finally clinched the winning point.
Of the four Delhi boys in the quarters, only Payas and Parth managed to reach the semi-finals but, in the final, they could not sustain the form and aggression which they showed in earlier rounds.
But Payas did pull off a gold medal in the company of Vanshika Bhargava when the Delhi duo beat Railways' Anirban Ghosh and Shruti Amrute 3-2 in a tight mixed doubles final, after leading 2-0.
Results:
Men: Final: Soumyajit Ghosh (Har) bt Jeet Chandra (Har) 13-11, 11-5, 7-11, 11-1, 11-8; Semi-finals: Jeet Chandra bt Birdie Boro (PSPB) 13-15, 11-6, 11-5, 11-8, 11-3; Soumyajit Ghosh bt Sushmit Sriram (TN) 16-14, 9-11, 11-9, 11-9, 11-8.
Women: Final: Sutirtha Mukherjee (Har) bt Prapti Sen (WB) 11-3, 8-11, 10-12, 11-2, 5-11, 11-6, 11-9; Semi-finals: Sutirtha Mukherjee bt Anusha Kutumbale (MP) 8-11, 11-13, 11-8, 11-7, 6-11, 11-8, 12-10; Prapti Sen bt Ayhika Mukherjee (RBI) 11-8, 11-3, 11-3, 11-3.
Youth Boys: Final: Jeet Chandra (Har) bt Deepit Rajesh Patil (Mah) 11-4, 11-6, 12-10, 14-12; Semi-finals: Deepit R Patil bt Prth Virmani (Del) 11-6, 11-5, 11-6, 12-14, 13-11; Jeet Chandra bt Payas Jain (Del) 11-9, 11-8, 11-7, 12-10.
Youth Girls: Final: Anusha Kutumbale (MP) bt Prapti Sen (WB) 11-5, 11-4, 16-14, 11-9; Semi-finals: Prapti Sen bt Kaushani Nath (Rlys) 11-9, 12-10, 7-11, 11-6, 13-11; Anusha Kutumbale bt Swastika Ghosh (Mah) 11-8, 11-5, 11-6, 11-8.
Mixed Doubles: Final: Payas Jain/Vanshika Bhargava (Del) bt Anirban Ghosh/Shruti Amrute (Rlys) 11-8, 11-6, 7-11, 6-11, 11-9.