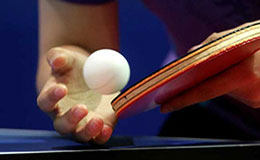 New Delhi: India's Manav Thakkar and Manush Shah combined well in the Junior Boys doubles final to beat the top-seeded Chinese Taipei duo of Feng i-Hsin and Tai Ming-Wei 11-7, 11-6, 17-15 and claim gold in the 2017 Slovenia Open Junior and Cadet Open at Otocec here on Sunday.
Earlier the second-seeded Indian pair had beaten compatriots Anukram Jain and Snehit Suravajjula 11-8, 8-11, 9-11, 11-7, 14-12 in the semi-final.
In the final, the Indians unleashed their attack to put pressure on the top seeds. The left-right combination proved to be too hot for the Taipei pair which tried to comeback in the third game which saw several deuces and the pair saving four match points. In the end, Manav and Manush won the gruelling battle to win the gold.
But before the final action, both Anukram and Snehit had accounted for No. 4 seeds from Japan, Aoto Azasu and Takeru Kashiwa 3-2 in the round of 16 and then packed off local favourites Tilen Cvetko and peter Hribar from Slovokia 11-13, 11-8, 13-11, 8-11, 11-8 in the quarterfinals.
In the semifinal, too, they put up a good fight to run Manav and Manush rather too close for the latters' comfort.
Another medal was on its way when top-seeded Jeho Himnakulhpuingheta kept his date with destiny to reach the Cadet Boys singles final. He defeated Iran's Radin Khayyam in straight games of 11-5, 1-4, 11-9 to earn a final meeting with Ireland's Owen Cathcard, the No. 2 seed, who accounted for Ivor Ban 11-8, 11-1, 6-11, 11-5 from Croatia. Jeho, who had earlier been beaten twice by his adversary in the Belgium Open, will get his chance to avenge those losses in the final to be played later tonight.
Earlier, Payas Jain and Diya Chitale bowed out in the Cadet quarterfinals, Radin Khayyam winning 9-11, 6-11, 11-6, 11-5, 11-6 against Payas and Chen Ci-Xuan downing Diya 8-11, 11-8, 11-9, 9-11, 11-7.