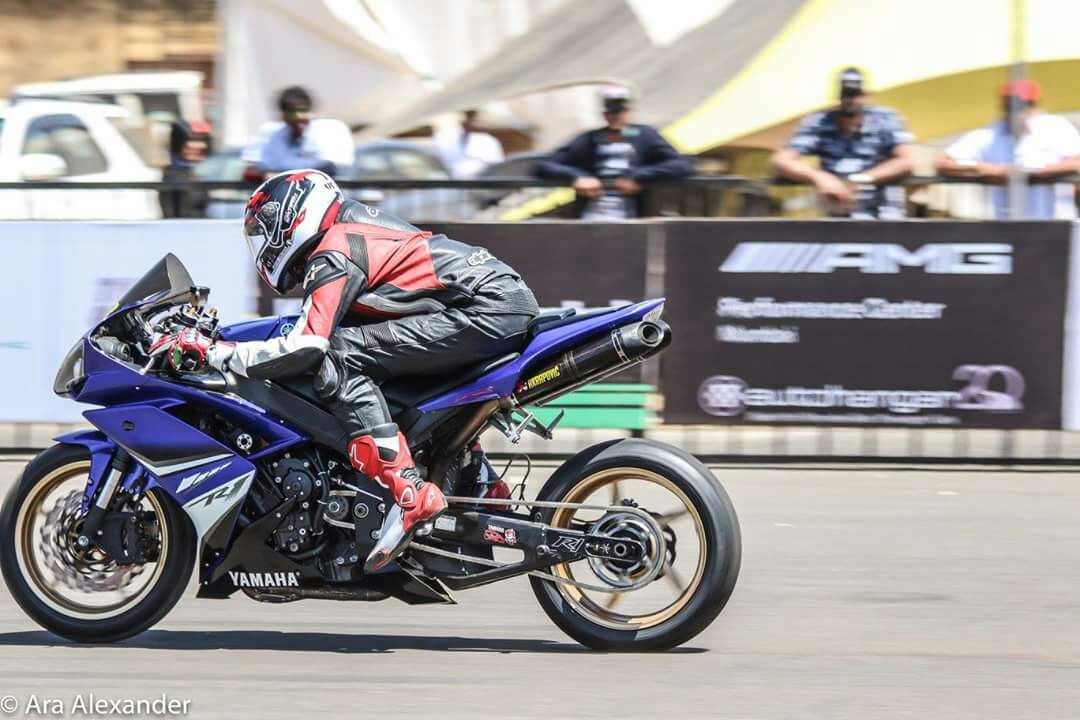 Mumbai riders proved to be dominating force, but it was Hyderabad-based Mohammed Riyaz who stole the thunder on the quarter-mile track of the Aamby Valley air strip in the sixth edition of The Valley Run 2018 held at the picturesque outskirts of Lonavala this weekend.
On a day when Mumbai grabbed six of the nine events in the two-wheelers category, it was Riyaz who finished with the distinction of 'Fastest Time' clocking 9.686 seconds on his Yamaha YZF-R1 motorcycle in the M9 Class (851cc to 1050cc).
Like Riyaz, the other class to go out of Mumbai's clutches was the O2 (Open Class) Foreign (551cc & Above, Unrestricted) which was claimed by Riya's twin-city mate Sundeep Singh Sokhi. Sundeep clocked 9.917s. Interestingly, Riyaz was second with a 9.965s effort. Zubair Ali Jung (Bengaluru) completed an all-south India podium running his Suzuki Hayabusa with a 10.048s effort.
Similarly, Pune's, Pravin Jadhav claimed the high capacity P-Class (Muscle Bikes) on his Ducati Diavel super bike with an 11.746 second effort (Elapsed Time).
The Mumbai winners included Iqbal Shaikh (M6 - Class from 361 to 550cc (Indian Produced) - 4-Stroke); Zarvan Batliwala (M7: Class 551 to 850cc (Sport - Inline 3/4) 4-Stroke); Surya Servai (M8: Class from 649 to850cc (Single Twin/L) 4-Stroke); Zahir Shah (M10: Class 1051cc & Above – 4-Stroke); Sachin Khengle (W1 - Indian Fastest Wheeler Class); Nadeem Shah (W2 Foreign Fastest Wheelie Class).
While this type of motorsport (drag racing) is all about a test of acceleration over a short distance, the key to being fastest revolves around syncing reaction time from a standing start to attaining top speed until the finish or vice versa.
A total of seven classes (M6 to M10, P, O2) made up the day in the two-wheeler section while six classes (M1 to M5 & O1) were run under the Promotors Classes only.
The event, promoted by Elite Octane Inc., received a whopping 475 entries from Delhi, Hyderabad, Bangalore, Kolkata, Gujarat, Surat, Indore, Mumbai and Pune and was supported by Sportscraft, the Race Management Partner with sanctions from the FMSCI, the governing body of motorsport in India.
The event overall had some of the country's fastest motorcycles and top racers were present at this year's Valley Run and the energy in the Valley was at full heat as under the scorching sun the riders gave their best to deliver some staggeringly fast drag race times.
This year the event had major presence of various sponsors which included Pirelli (Tyre partner), Motul (Lubricant Partner) and Mercedes-AMG (Official Pace Car) apart from Jeep, Suzuki, Kawasaki, MV Agusta, Norton and Nissan as co-sponsors.
Later the prizes were distributed by Rongom Tagore Mukerji, Director Elite Octane Pvt Ltd.