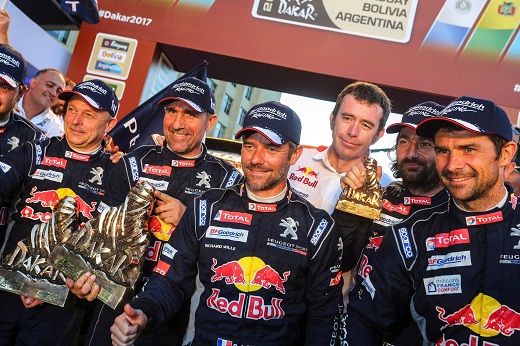 Buenos Aires: British motorcyclist Sam Sunderland (KTM) clinched his first Dakar Rally title, while Frenchman Stephane Peterhansel (Peugeot) narrowly held off countryman and Peugeot teammate Sebastian Loeb in the car race to win his 13th championship.
Sunderland came out on top with an overall time of 32:06:22, exactly 32 minutes ahead of Austria's Matthias Walkner and 35:40 in front of Spain's Gerard Farres Guell on Saturday, reports Efe.
"Unbelievable. When I crossed the line I felt all the emotion hit me. The weight on my shoulders of the race over the last week, leading the rally has been really heavy. It's the first Dakar I've ever finished and to finish first is an incredible feeling. I'm really lost for words," Sunderland said.
Spain's Joan Barreda (Honda) won four stages and finished third in the final 786-km stretch from Rio Cuarto to Buenos Aires, but he still finished more than 43 minutes behind Sunderland in the overall timings.
The 27-year-old Sunderland won just one stage -- the fifth -- but he took the lead at that juncture and held through the end of the race.
The 51-year-old Peterhansel, meanwhile, won his 13th Dakar but had to hold off Loeb and another teammate, Cyril Despres, to claim victory.
Read more: Ghai, Naicker win Pre Qualifying II, forty-three players qualify for Final Stage
Loeb won the final stage with a time of 28:55, but Peterhansel finished just 19 seconds behind to conclude the race with a time of 28:49:30, just over five minutes ahead of his teammate.
Russian Eduard Nikolaev (Kamaz) won his second Dakar title in the trucks category with a time of 27:58:24, besting compatriot and teammate Dmitry Sotnikov by nearly 19 minutes.
In the quad segment, Russian Sergei Karyakin (Yamaha) won his first Dakar with a time of 39:18:52, far ahead of his nearest competitor.
In the new UTV (Utility Task Vehicle) category, Brazil's Leandro Torres won the title with a time of 54:01:50, while his nearest competitor, China's Wang Fujiang, was 4:42:34 behind.