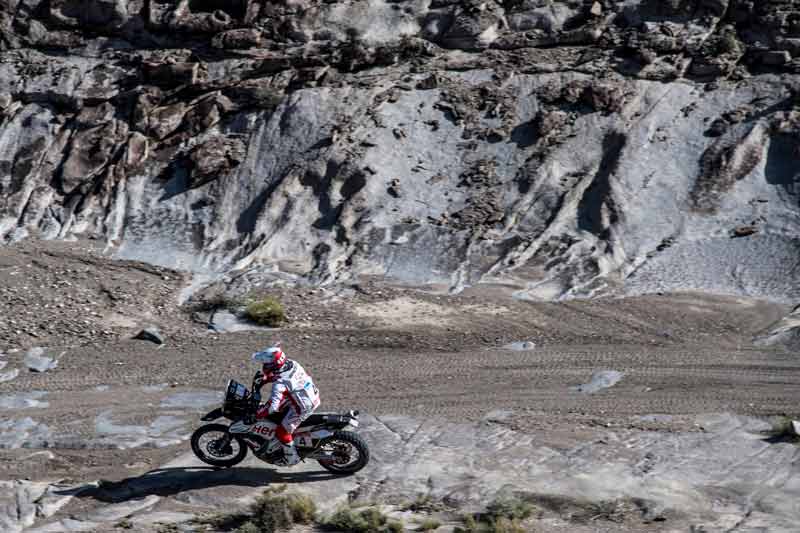 Hero MotoSports Team Rally continued their impressive run this season with yet another consistent performance at an international rally. The Team concluded its campaign in the Silk Way Rally 2019 with a Top 10 finish in the overall rankings.
Oriol Mena finished at the sixth position, adding to his notable performances this season. While Paulo Goncalves, the Team's second rider, finished at the 15th position, in his first race for Hero MotoSports Team Rally.
Oriol Mena was at his consistent best during the entire rally successfully finishing all the stages. He also achieved three stage podiums, including the Team's maiden Stage win on the World Championship stage. His evolution as a rally rider over the past couple of years is a very positive sign for the Team.
Paulo Goncalves had a very impressive and strong first race with Hero MotoSports Team, as he raked in four stage podiums in the 10 stage Rally. It was a clinical performance by him and an unfortunate mechanical failure in stage six denied him an even better result.
Overall, it was a hugely positive outing for Hero MotoSports Team Rally. The Team stepped up their game, both in terms of skills and competitiveness and achieved six stage podiums and a stage win during the Rally.
The Silk Way Rally 2019 came to a grand finish in the Chinese city of Dunhuang today with the conclusion of Stage 10, which took the riders on a final run of 556 kms including the final 255 kms of special section.
This Rally has been a great addition to the cross-country rally sport, for not just the high level of competitiveness it presented but also for the good organization and new terrains it offered.
Paulo Goncalves (Comp No: 4): "I am so happy to finish the Silk Way Rally 2019. It has been a good rally for me as I secured 4 stage podiums. It was a really long and tough rally running over 5000 kms, so I tried to push hard and increase my speed with every stage. Especially in China I did really well in the tough stages. For me the important thing was to get my first race experience with my team Hero MotoSports. So, thanks to the entire team for this opportunity and giving me fantastic support throughout the rally. I am confident that with this bike and team, it is possible to fight for the top positions in the upcoming rallies."
Oriol Mena (Comp No: 25): "I am really happy with to finish the 2019 Silk Way Rally, especially because I won one stage for the team. I finished sixth overall and very happy with this result. Congratulations also to my team mate Paulo for a great first race with the team. Many thanks to my teammates for doing a great job during the rally. My thanks to the entire Hero family for their support and encouragement to us. I have learnt a lot in this race and now I take this experience and go back to my training for the next races."
Wolfgang Fischer, Team Manager, Hero MotoSports Team Rally: "We are very happy to have both the riders finishing safely in this new big adventure in the far-east. The Silk Way Rally turned out to be a fantastic race through the magnificent landscapes of Russia, Mongolia and China and opened a new horizon in the cross country rally sport. For Hero MotoSports Team Rally, it was a big step up in competitiveness, collecting six stage podiums and a maiden stage win. Paulo showed his world class pace and experience in two of the most difficult stages in China, but lost out in the overall results due to a technical issue in the stage six. It was really high level of competition in the rally as evident from stage wins for all five factory teams, so all in all a very good race. My compliments to both the riders and thanks to my ever professional and efficient team mates."
Dr. Markus Braunsperger: "My congratulations to the entire team for their highly successful campaign at the Silk Way Rally. It was a particularly interesting race, being the only other race similar in length and competitiveness to the Dakar. So our performance here is even more gratifying. With the experience of Paulo and JRod and the firepower of Oriol and Santosh, we now have a combination that can definitely fight for top positions. As I am transitioning out of the role of CTO, Hero MotoCorp and Head of Hero MotoSports, I want to thank the team for having given me the opportunity to be a part of so many proud moments, the most memorable being on the finish podium of our very first Dakar in 2017. Lastly, my earnest thanks to all our fans and supporters for making this journey even more special."