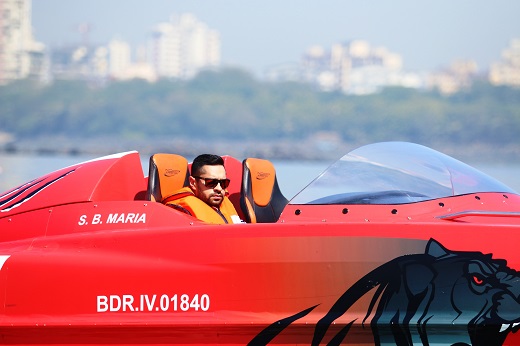 Mumbai: With less than 24 hours to time trials and the first day of race weekend, Neil Holmes is a much sought after name on the race course. Famous for his Seven World Championship titles and 3 speed records, Neil is also infamous for training the two Indian pilots, C S Santosh and Gaurav Gill who are competing against the fastest men and women on sea in the NEXA P1 Powerboat, Indian Grand Prix of the Seas.
Neil who leads the World's most renowned Powerboat training institute, was quick to laud Santosh and Gill on their racing abilities, sharing, "Gaurav and Santosh arrived in Southampton, for over a week each. They underwent basic training for two days learning how to handle a boat, park a boat, maneuver a boat and learn how not to hit someone when coming out of the harbor which is a very critical part of becoming a powerboat racer. Post an initial basic training and earning their basic pilot licenses, they were encouraged to go out into the waters to race alone, before they started competing and learning to race against me. Once they got used to competing against me, I was confident that they were ready to go race against the world."
Confident that his wards were well prepared for race weekend, Neil was quick to state the boys strengths, candidly sharing, "Gaurav is more fluent with the slide of the boats, similar to what he experiences in the car while he is racing. Santosh on the other hand is a more technical racer, he plans and analyses everything before he goes out there and tests it out practically and is very strategic on how he approaches his races. Santosh is a man with a good racing mind." Concluding that Gaurav would perhaps just run with a higher advantage on choppy waters, while both men would be equal on the calm waters expected for the race weekend in Mumbai.
Holmes who has been racing since he was nine, across oceans and continents, was very intrigued by the setup of the course, "Firstly, I do have to say that I am extremely impressed by what we have out here. The additional number of Bouys we have seen to determine this course makes this a unique race track. Normally we have Buoys placed far apart and you're allowed to take your own line. Given that this whole race is within the lines, it would be co-pilots job to not only determine the next corner but to keep finding straight lines for the race and looking for the smoothest part of the course." Holmes supplemented his advice with specific instructions for this course saying, "On this course, it's all about keeping the boat smooth, and when you take the pit lap. That pit lap may put you behind the other boats, but will give you the open water in front of you to chase them down and eventually when they take their mandatory pit laps, they will end up behind you with the boat ahead just finding much desired clear water."
Holmes who was confident that the strength of the crew will determine the winning team given the identical boats, but also how well the crew would maintain this speed while taking the corners saying "it would not matter how fast you go into the corners, but how fast you come out of the corners."
Holmes who was also amazed by the quick changing character of the ocean, shared, "when we got started this morning, the sea was like glass, this evening we had to cancel practice because of the winds and its not wise to allow the boats to go through the possibility of going through damage prior to race weekend"
The NEXA P1 Powerboat, Indian Grand Prix of the Seas which will be a visual delight for the viewers along the Marine Drive promenade, will also be telecasted to across 150 countries and be live on.