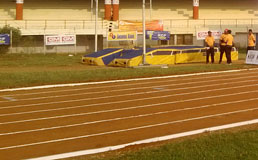 Moscow: The World Anti-Doping Agency (WADA) has reportedly asked legendary pole vaulter Yelena Isinbayeva to be an ambassador of clean sports in Russia, a source close to the situation has said.
Quoting a source, Tass news agency reported on Thursday that WADA sent an official letter to the two-time Olympic champion inviting her to the agency's headquarters in Canada's Montreal to discuss details of cooperation.
In case Isinbayeva agrees, she will be the first ever to be empowered with such status on behalf of WADA.
Isinbayeva, 34, wrapped up with her skyrocketing sports career last summer during the 2016 Summer Olympic Games in Brazil, where she did not participate after the whole Russian track and field team was banned from the Games on doping allegations.
In August 2016, she was elected as Russia's representative to the International Olympic Committee's (IOC) Athletes' Commission. She is also a member of the Russian Olympic Committee's (ROC) Executive Committee.
Two months ago, Russia's anti-doping agency Rusada elected a new Supervisory Board, and appointed Isinbayeva in charge.
However, in light of recent WADA requirements for Rusada's membership reinstatement, she has to vacate this post before May 31.