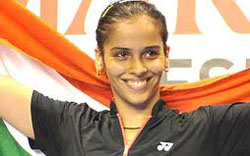 New Delhi: A felicitation function, where all the six London Olympics-2012 medal winners from India shared a common platform after the games, probably for the first time was organised by Ministry of Steel on 16 August, 2012.

Union Steel Minister Beni Prasad Verma felicitated and presented cash awards to the six medal winners. Secretary, Steel, GOI D.R.S.Chaudhary, AS&FA, Ministry of Steel, GOI E K Bharat BhushanChairman, SAIL  C.S.Verma, and other senior officials from Ministry of Steel and its PSUs were present on the occasion. A cash award of    Rs. 25 lakh each was given to Silver Medal Winners- Sushil Kumar and  Vijay Kumar. All the bronze medal winners were presented a cash award of Rs. 20 lakh each. These included Gagan Narang, Mary Kom, Saina Nehwal and Yogeshwar Dutt.
Steel Minister congratulated the winners and encouraged them to continue the winning streak and inspire budding players in the respective fields. He emphasised the significance of sports in overall development of the society and remarked that winning of these medals will serve as a goal worthy of emulation by millions of young Indians.
Chairman, SAIL C.S.Verma expressed happiness over the fact that two wrestlers which have brought laurels for the country, were getting SAIL support in their formative years preceding the glorious victories.  He highlighted sports initiatives by SAIL over the years and stated that such victories validate SAIL's commitment to development of sports since its inception.
SAIL has established several residential Sports Academies like Football Academy at Bokaro (Boys), Football Academy at Burnpur (Senior Boys), Hockey Academy at Rourkela (Boys), Athletics Academy at Bhilai (Boys), Athletics Academy at Durgapur (Girls) and Archery Academy at Kiriburu (Boys & Girls). Several cadets from SAIL sports academies have made the nation proud with their achievements. Cadets in these academies are provided sophisticated training by former sportspersons of national repute.
The Steel Townships of SAIL boast of an impressive sports infrastructure. There are sports complexes with provision of facilities for the grounds, indoor and outdoor courts, tracks, pools, gymnasia and stadia conforming to national and international standards in some of them. Inter-Plant championships for the age group of U-16 & 19 in various sports events such as Football, Hockey, Cricket, Basketball, Athletics, Table Tennis and Volleyball are conducted involving the SAIL fraternity under the aegis of Corporate Sports.
Many former Olympians have worked at SAIL in the past and some are still in service, playing an instrumental role in shaping upcoming talent. They look after the various academies of SAIL or help in the various Sports departments at the Steel plants.
By Indian Sports News Network