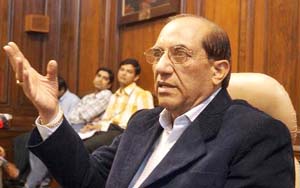 New Delhi: The Indian Olympic Association on Wednesday unanimously   urged the union government to gives approval for hosting of the South Asian Games (SAG) early next year.

The special General Body Meting (GBM) of the IOA here reiterated its resolve to conduct the Games in the country, which has been allotted to it on rotational basis.  The GBM felt that it will be standing shame for the country if it failed to honour the commitment to host the SAG because India is a founding member of the South Asian Association for Regional Cooperation (SARRC).

It said that in case of some technical reasons games cannot be held in Delhi, the venue can be shifted to any other r state which has infrastructure of International standard.

Addressing the meeting, IOA acting president Vijay Kumar Malhotra said the reason given by the sports ministry seeking the deferment of the SAG are flimsy and not convincing.

"We have already written to the Prime minister on this issue and now we will meet him   to known the Government's stand to end the prevailing uncertainty."

He also said that IOA has rejected the sports bill/ code in its totality because it infringes the autonomy of the Sports Federations and the IOA."We don't accept it and we have told the Government about it".

Prof Malhotra said several states have offered to hosts the Games" but we are awaiting Government's response. Interestingly even the Delhi   Government has shown its keen ness to conduct the Games in the capital".

The Acting president also made it clear to the GBM that Ethics Commission and Court of Arbitration set up by the IOA  will start functioning only after four-member committee submits its report which will have to be ratified by the General House.   "Everything will be transparent and have the approval of the General house of the IOA".

The GBM also accepted   the amendments to the IOA's constitution to have eight vice presidents, six joint secretaries.

It restored   full powers   to the President   to set up committees/commissions, decide about the disciplinary issues and appoint associate vice presidents and joint secretaries.

The GBM also   approved   the decision of giving the sponsorship money to the sports persons qualified for the London Olympics.

It  also  approved  the amendment  that  NSFs, whose disciplines are part of the Olympic,/ Asian and Commonwealth Games will have  three votes each while  State Olympic  Associations two votes each.

The GBM once again reposed its full faith in Prof Malhotra's leadership.