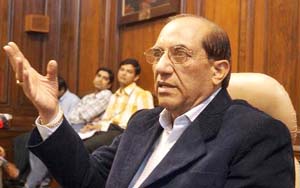 New Delhi: The Indian Olympic Association (IOA) has sought Prime Minister Manmohan Singh's immediate intervention and support to host the South Asian Games (SAG) here early next year as scheduled.

The IOA's plea to the Prime Minister comes in the wake of South Asian Olympic Council's (SAOC) decision to shift the Games to Kathmandu, Nepal if they are not held as scheduled in Delhi early next year.

SAOC decision was in response to reports that that Games are likely to be deferred to the letter half of the 2014.

"The rescheduling of the Games is not possible because if we don't host the Games in January/February next year, they will be shifted to Kathmandu, Nepal" IOA acting President Vijay Kumar Malhotra said in a letter to the Prime Minister.

"The Executive Committee of South Asian Olympic Council (SAOC), in its meeting has decided that in case Games are not held in India in 2013, they will be allotted to Kathmandu," Prof Malhotra wrote.

"So we don't have this leeway to shift or defer the Games and then hold it when Sports Ministry gives its clearance. Once these are moved out of the country it will be difficult for India to conduct them in near future, given the rotational basis on which Games are allotted.

"It will be a big embarrassment for India and its sporting fraternity if the Games are moved to another country".

"India is a leading member of the SAARC and it has certain obligation towards this regional organization. Not holding the Games early next year, will weaken our position in the SAARC"   the letter said.

"SAG, earlier called South Asian Federation (SAF) Games, are part of the SAARC charter according to which Games have to be rotated amongst the member countries. Now is India's turn".

"In my earlier letter to you I had made it clear the IOA did not make any bid for these Games. They were allotted to us because of the rotation system. Last edition of these Games were held in Bangladesh. Maldives, Sri Lanka and Pakistan have also conducted them".

The Sports ministry was fully aware of the dates of the Games. It was not a sudden development, Delhi Government was also kept informed about it and its consent was received".

"The reasons put forth by Sports Ministry for seeking deferment of the Games are  flimsy and contradictory and are not convincing "  Prof Malhotra added.