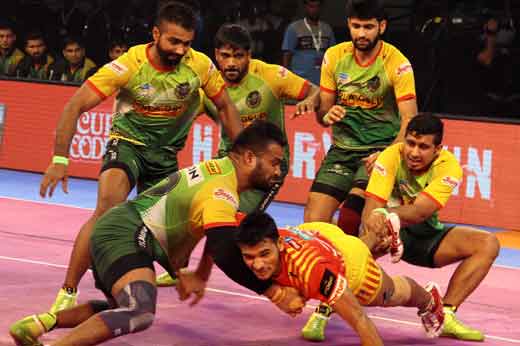 In the battle of heavyweights in the Inter Zone Challenge Week of Pro Kabaddi Season 5, it was Gujarat Fortunegiants who came out on top as they narrowly beat Patna Pirates 30-29. Parvesh Bhainswal and Abozar got high fives for Gujarat as they managed to keep Patna Pirates' danger man Pardeep Narwal quiet for most of the match. Narwal scored just five points and had his lowest scoring match of Vivo Pro Kabaddi Season 5. Chandran Ranjit scored seven raid points for Gujarat Fortunegiants.
Gujarat Fortunegiants are now top of the table in Zone A with 62 points from 17 matches. Patna Pirates also are top in Zone B with 66 points from nine matches.
It was a low-scoring affair in the first half as both teams were cautious to make errors. It was 3-3 after five minutes as Gujarat Fortunegiants kept Pardeep Narwal out of the match. Monu Goyat scored two points in two raids as Patna Pirates led 5-3. Patna Pirates got tackle and raid points as they led 7-4 after seven minutes.
Gujarat Fortunegiants made it 8-9 in the 13th minute as Rohit Gulia scored with a two-point raid. Gujarat Fortunegiants forced a super tackle in the 16th minute as they trailed 10-11. Patna failed to score a point in the last five minutes of the first half as they trailed 11-14 at the break. Pardeep Narwal scored just two raid points in the first half.
Gujarat Fortunegiants began the second half brightly as they inflicted an all out in the 23rd minute as they led 18-12. Parvesh Bhainswal got a high five in the 28th minute as Gujarat led 23-13. With Pardeep Narwal on the bench, Patna Pirates were struggling to get points in the board. Chandran Ranjit scored three points with a super raid in the 29th minute as Gujarat led 26-14.
The match was slipping from Patna's hands but Pardeep Narwal got a raid point as they trailed by 10 points after 30 minutes. Patna Pirates forced a super tackle in the 33rd minute as they trailed 19-27. Patna forced another super tackle in the 36th minute to trail 21-28. Jaideep got a high five for Patna Pirates as they trailed 24-29 after 36 minutes.
Gujarat's defence did a splendid job on Patna raiders as Abozar got a high five to give his team 30-24 lead. Patna forced their fourth super tackle in the 38th minute to trail 26-30. Pardeep Narwal got a raid point in the 39th minute as Patna Pirates trailed by just two points. Gujarat Fortunegiants just managed to edge Patna Pirates by a point in the end as they won 30-29.
PUNERI PALTAN OUTCLASS TAMIL THALAIVAS 33-20
Puneri Paltan produced a composed performance in the last 10 minutes to outclass Tamil Thalaivas 33-20 in Inter Zone Challenge Week of Vivo Pro Kabaddi Season 5. It was an evenly fought match for 30 minutes but Deepak Hooda helped Pune inflict two all outs to record a comfortable victory. Tamil Thalaivas suffered as Ajay Thakur was kept in check by Puneri Paltan for most of the match.
Puneri Paltan are third in Zone A table with 52 points from 13 matches. Tamil Thalaivas are bottom of the pile in Zone B with 32 points from 14 matches.
In a closely contested first half both teams refused to give an inch and were neck and neck in raid and tackle points. No all outs were inflicted in the first half. Tamil Thalaivas led 3-1 in the fourth minute but Rajesh Mondal scored with a two-point raid to level the match at 3-3. Tamil Thalaivas scored three straight points in three minutes to lead 6-3 after seven minutes. But PuneriPaltan were back on level terms after nine minutes with the score at 6-6.
It was Puneri Paltan's turn to get ahead as they led 9-6 in the 13th minute after scoring two tackle points. Deepak Hooda scored a raid point in the 17th minute to give Puneri Paltan 11-10 lead. Dong Geon Lee scored two points in a raid as Tamil Thalaivas led 12-11 at the end of the first half. Ajay Thakur had a quiet first half and scored just three points for Tamil Thalaivas.
The second half was very much like the first half as in the first five minutes Tamil Thalaivas scored two points to lead 14-11 in the 24th minute. But Puneri Paltan forced a super tackle to level the match at 14-14 after 26 minutes. Sandeep Narwal was struggling to get tackle and raid points for Puneri Paltan as he failed to get on the scoresheet for the first 30 minutes of the match.
With 10 minutes left on the clock, Puneri Paltan held a slender one-point advantage and led 16-15. Deepak Hooda scored with a two-point raid as Puneri Paltan inflicted the first all out of the match to lead 21-15. Puneri Paltan then scored two tackle points to lead 23-16 in the 33rd minute. Puneri Paltan inflicted another all out in the 37th minute to lead 30-17. The all out extinguished any little hope Thalaivas had of a comeback as they crashed to a 20-33 defeat